Turns out Millennials may not be the narcissistic, shallow, swipe-happy generation people say we are. When asked which trait they found sexiest, poll participants of both genders named "personality" over boobs, butt, and everything else.
The findings are part of Fusion's Massive Millennial Poll, which surveyed 1,000 people aged 18 to 34 about everything from politics to dating to race issues.
The question posed was open-ended, meaning participants came up with their own answers as opposed to choosing from a list. Sure enough, 17 percent of men and 17 percent of women dubbed "personality" the sexiest quality.
What came in second? Participants attracted to women said "eyes" (10 percent), followed by "intelligence" (9 percent), "butt" (6 percent), and "smile" (6 percent). Participants attracted to men also said "eyes" (10 percent), followed by "intelligence" (9 percent), "smile" (8 percent), and "sense of humor" (8 percent). Earning potential was mentioned by a mere one percent of participants.
Moral of the story: Next time someone describes you as "having a great personality," take it as the compliment it was meant to be. And consider wearing contacts.
G/O Media may get a commission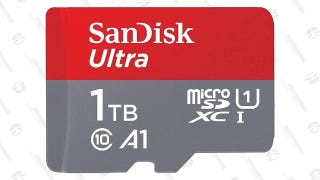 Save $75
SanDisk Ultra 1TB MicroSDXC Card
Fusion's Massive Millennial Poll surveyed 1,000 people between the ages of 18 to 34, with a general population sample and an overall margin of error of plus-minus 3.1 percentage points. The interviews were conducted via telephone from Jan. 6 to Jan. 11. For more on our methodology and poll results, click here.
Taryn Hillin is Fusion's love and sex writer, with a large focus on the science of relationships. She also loves dogs, Bourbon barrel-aged beers and popcorn — not necessarily in that order.