A country guitarist whose band played at the Route 91 Harvest festival hours before a gunman opened fire on the crowd, killing 59 people, changed his mind about gun control after witnessing the shooting.
Caleb Keeter, a guitarist in the Josh Abbott Band, said in a Twitter post that he couldn't express how "wrong" he was about supporting the Second Amendment in the aftermath of America's deadliest mass shooting.

"I have been a proponent of the Second Amendment my entire life," Keeter wrote. "Until the events of last night. I cannot express how wrong I was."

Even crew members who had legal weapons and concealed handgun permits couldn't use them, Keeter said, because they couldn't risk police misidentifying their involvement in the shooting. "We need gun control RIGHT. NOW," he wrote. "My biggest regret is that I stubbornly didn't realize it until my brothers on the road and myself were threatened by it."

G/O Media may get a commission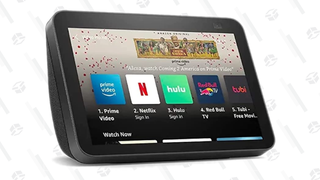 Later, responding to a gun control advocate who noted humanity's tendency to ignore issues until confronted with them personally, Keeter said she was "absolutely right."
"I saw this happening for years and did nothing," he said on Twitter. "But I'd like to do what I can now." Given the historically symbiotic relationship between country musicians and gun culture, Keeter's change of heart is especially powerful — and potentially the foundation for a movement within the industry promoting gun control.

But first, country stars will have to do what Congress seems incapable of: divorcing themselves from any relationship with the National Rifle Association. According to its website, some of country music's most recognizable stars are associated with NRA Country, a "softer side" of the gun lobby. Dismantling the NRA's propaganda machine begins with artists, Keeter's peers, who can no longer ethically represent an organization that threatens American lives.
For more news from Splinter, follow us on Facebook