The trollish specter of luxurious white feminism that manifests itself in what inhabitants of Earth refer to as Gwyneth Paltrow has struck again.
Fresh off the opening of her physical Los Angeles store Goop Lab earlier this week, as well as the launch of her quarterly print magazine earlier this month, Paltrow has now officially cast her gaze on the world of television. And instead of talking about Sex Dust and "clean beauty" and hip-hop clutches, she's going to be talking about uh, the water crisis in Flint?

In a recent interview, the woman currently best known for encouraging women to subject their vaginas to things like jade eggs and steam baths told The Hollywood Reporter (emphasis mine):
No, what we are thinking of doing is a TV show with the working title "The Radical Wellness Show." I would be going into the field and talking to any number of doctors, scientists, civilians, people in crisis in Flint, Michigan, where there is something to uncover and confront about wellness. We would want it to feel more Vice-y in its vibe, but we're just in the brainstorming phase. We signed on with Ben Silverman's production company, Propagate, to help us formalize and pitch it.
Excuse me? Flint? Listen, I believe in wellness! I believe in sheet masks and deep breaths and marathons of Forensic Files or whatever, though I also believe in keeping it to your damn self unless expressly asked (unless you're Martha Stewart or Oprah). I don't care if rich white women want to engage with ideas from other cultures. But the impulse to claim them, assume ownership of them, and monetize them remains gross and colonial as hell. This is why I wonder if a capable and astute businesswoman making money off of "proprietary" pill packets based on ayurvedic remedies may not have the best intentions for Flint.
Of course Flint is a wellness issue (if "wellness" refers to actual medical health and not the industrial wellness complex constructed by Goop-ish rich white women who just found out about turmeric and now feel entitled to sell it). People were literally poisoned. A new study just found that fetal death rates in the city increased by 58 percent since 2014, with fertility decreasing by 12 percent.
G/O Media may get a commission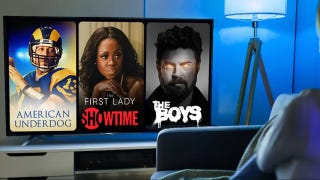 UNDER $1
99¢ Prime Video Channels
Flint is a health issue and a race issue and a class issue and a political corruption issue. Flint certainly needs more sustained media attention. But I don't believe that what Flint needs is Gwyneth Paltrow, who appears to have never expressed anything about the crisis in Flint before, to exploit its suffering for a pilot episode for her new "Vice-y" show.