Hurricane Matthew slammed into Haiti early Tuesday morning, marking the first time in over five decades that a category 4 storm has made landfall in the country.
With sustained winds of 145 miles per hour, Matthew roared into Haiti's Tiburon Peninsula just after 7AM, bringing with up to 40 inches of rain and churning storm surges that threaten the Western Hemisphere's poorest nation.
Pictures and video showed the immediate impact of the huge storm.
G/O Media may get a commission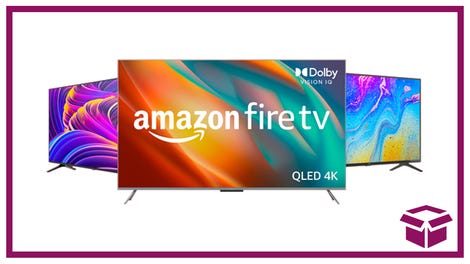 Ooh. stunning.
New Amazon Fire TVs
"We're expecting a lot of houses to go down because of the poor housing infrastructure in a lot of the rural areas where we work," John Hasse, an aid worker for World Vision, told USA Today. "With wind this strong, it will be extremely damaging and dangerous and homes for the average person are made of mud and sticks or poorly constructed cinderblocks."
Speaking with NBC News, a representative from Catholic Relief Services in the capital city of Port-au-Prince reported Haitian officials had established shelters in the country's major cities. But the sheer number of people affected by the storm far outstrips the number of safe spots prepared.
"People [in Port-au-Prince] are starting to realize that this could be big," Hasse explained to USA Today. "And they have been stocking up."
Haiti is still recovering from the devastation of the 2010 earthquake, as well as a cholera outbreak caused by occupying United Nations forces. The country is also supposed to conduct presidential elections on Sunday.
Meteorologists predict the storm will likely slam into portions of the Bahamas and Cuba next, before making its way up toward the United States. There, it is unclear what impact Matthew will have on the eastern seaboard, with everything from Florida to parts of North Carolina at potential risk for damage.
"We're taking this storm very seriously," North Carolina governor Pat McCrory said during a press conference Monday, where he announced a state of emergency for 66 counties as a precautionary measure.
At the same press conference, state Emergency Management Director Mike Sprayberry explained that Matthew "will create issues for North Carolina even if it just hits us with a glancing blow."
In Haiti, at least one person has been killed as a result of the storm—a fisherman who reportedly ignored a government ban on boating off the country's coast during the storm.
Speaking with the Weather Channel, Johnny Souffrant, head of the fishermen's association in the Haitian town of Gressier, explained that some fishermen "feel they have to take risks to support their families."