143 million Americans now live in areas exposed to potentially damaging ground shaking from earthquakes — and that doesn't even include those who live in fracking country.
In a joint report, the U.S. Geological Survey (USGS), the Federal Emergency Management Agency and the California Geological Survey said updated seismological assessments, as well as migration patterns, are behind the new estimates. You may recall unusual (ok, non-California) quakes hitting places like Washington DC, Chicago, and New York in recent years.
By comparison, FEMA estimated in 1994 that just 75 million Americans in 39 states were at risk from earthquakes.
The report puts the average long-term value of building losses from earthquakes at $4.5 billion per year, with roughly 80 percent of losses attributed to California, Oregon and Washington state. In the highest hazard zones, as many as 28 million people are likely to experience strong shaking during their lifetime, the report says.
"Earthquakes remain an important threat to our economy," said Kishor Jaiswal, a USGS research contractor. "While the west coast may carry the larger burden of potential losses and the greatest threat from the strongest shaking, this report shows that the threat from earthquakes is widespread."
G/O Media may get a commission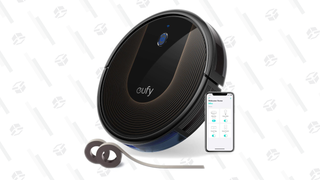 48% Off
Eufy BoostIQ RoboVac
The Associated Press reported that the researchers didn't take into account regions where small earthquakes have been caused by oil and gas drilling. But Jaiswal said the number of people exposed to shaking would be even higher if those were counted, the wire said.
In a separate report released Thursday, USGS said quakes of magnitude 3 or larger on the Richter scale were now 100x more likely than they were in 2008 in eight states that have seen increased oil and gas drilling.
Here's their new timeline:
And here's the updated map for Oklahoma. The different colors represent different years.
That report said waste water injection wells designed to dispose of water used during hydraulic fracturing (fracking) was mostly responsible, although in some instances the fracking itself caused the quakes.
"These quakes are occurring at a higher rate than ever before and pose a higher risk and threat to people living nearby," USGS scientist Mark Petersen, chief of the agency's National Seismic Hazard Modeling Project, said at a conference where he and others are unveiling a federal report according to the Denver Post.
"If you live in one of these areas of induced seismicity, you should educate yourself and those around you for protective actions you can take," Petersen said.
Rob covers business, economics and the environment for Fusion. He previously worked at Business Insider. He grew up in Chicago.