A short documentary that was just made available online offers a glimpse into a policy that allows some undocumented immigrants to travel back to the countries where they were born.

The 21-minute documentary, Halmoni, follows 24-year-old Ju Hong as he makes his first trip to South Korea in 13 years.
Hong, who is now 27, was allowed to travel for a "humanitarian purpose" and see his sick, 90-year-old grandmother under a program called advanced parole that's available to young immigrants with DACA, the federal program that provides some young immigrants a temporary work permit and protections from deportation.

Without advanced parole, Hong would have likely been denied re-entry into the United States.
G/O Media may get a commission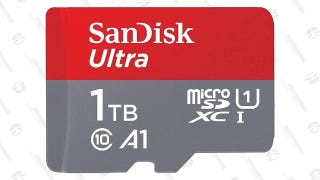 Save $70
SanDisk Ultra 1TB MicroSDXC Card
"Having intimate moments being filmed was difficult to balance but it was a choice that I made to let the world know how this broken and complicated immigration system is affecting families," Hong told Fusion in a telephone interview.
Hong is used to putting himself out there. In 2013, he interrupted President Barack Obama as he delivered a speech on immigration in San Francisco. "Mr. President, please use your executive authority to halt [deportations]," Hong told Obama.
Hong said he wanted to make the film to inform other undocumented immigrants about advanced parole.
Only about 3% of DACA recipients have applied for advanced parole, according to U.S Citizenship and Immigration Services. According to the latest data from December 2015, of the estimated 713,300 individuals who have been granted DACA, 22,340 were approved for advance parole. (USCIS did not provide stats on how many applications were denied.)
The documentary was funded through small donations that paid for travel and some production costs, like music licensing. But everyone who worked on the film volunteered their time, Hong said.
The film, directed by Anna Oh, has been screening at film festivals, college campuses, and community organizations for the last year.
Hong said he wanted to illustrate the diversity within the 11 million undocumented immigrants in the U.S.
"With this film, I hope people will be more aware that there are undocumented immigrants who are not Latinos," Hong said.
Since the year 2000, Asians have been the fastest-growing racial group in the United States, according to Census data. About 1 out of every 7 Asian immigrants is undocumented, with China, India, the Philippines, Vietnam, and Korea representing the largest national origin group in the unauthorized population, according to The Center for Migration Studies.