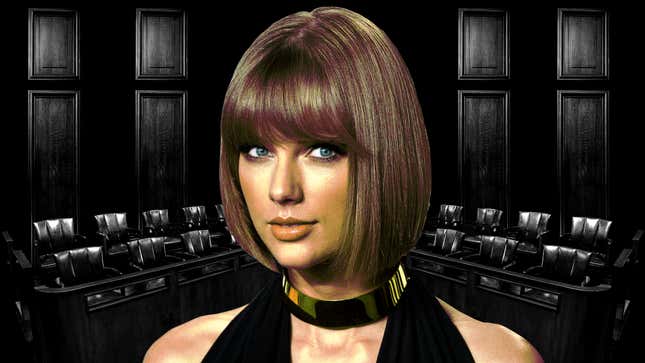 Taylor Swift's new album Reputation comes out on Friday, and Swift has kicked off her album release week by getting into a tiff with none other than the American Civil Liberties Union. (My god, 2017 is truly going off the rails.)

On Monday, the ACLU of Northern California dropped a press release condemning a cease and desist that Swift's representatives sent to Meghan Herning, an editor at PopFront who wrote a post titled, "Swiftly to the alt-right: Taylor subtly gets the lower case kkk in formation."

In the post, published in September, Herning discusses the alt-right's embrace of Swift, citing Daily Stormer founder Andrew Anglin's 2016 claim that Taylor Swift is "secretly a Nazi," and Breitbart proudly tweeting out "Look What You Made Me Do" lyrics. Herning also likens some authoritarian imagery from the "LWYMMD" video to footage of Hitler addressing huge crowds, and draws parallels between "LWYMMD" lyrics and the general resentment white supremacists have toward people of color. It's not the subtlest take, but whatever.

As a result, on October 27, Herning received a cease and desist letter from Swift's lawyer, who claimed the website was "substantially liable to Ms. Swift for defamation." Attorney William J. Briggs II wrote:
The story knowingly regurgitates, repeats, and attempts to expand on a malicious lie. Among other things, the story propagates such hideous falsehoods as: 1) "Taylor's lyrics play to [a] subtle, quiet white support of a racial hierarchy;" 2) that there are similarities between Ms. Swift and Adolf Hitler; 3) that the "lyrics [of "Look What You Made Me Do"] are the most explicit in speaking to white anger and affirming white supremacy;" and 4) that Ms. Swift's purported silence regarding white supremacy means she supports Donald Trump and identifies with the white supremacist/al-right [sic] movement.
As for the well-documented white supremacist/neo-Nazi Taylor Swift fandom (there's even a WNYC episode about this), Briggs defends his client by pointing to a Washington Post article about the situation that begins, "Taylor Swift is not a white supremacist," as well as a Huffington Post article that quotes a statement from Swift's lawyer denouncing a Pinterest user who made memes pairing images of Hitler with Swift lyrics, published by Broadly.
The ACLU of Northern California was not happy about any of this. And they certainly weren't happy about Briggs' attempt to keep the cease and desist from being published publicly, citing copyright law.
From its press release:
"Intimidation tactics like these are unacceptable," said ACLU attorney Matt Cagle. "Not in her wildest dreams can Ms. Swift use copyright law to suppress this exposure of a threat to constitutionally protected speech."
It's surprising for the ACLU to get involved with celebrity nonsense like this, but Swift's threats to journalists are actually very common. As it happens, Splinter itself received a letter from Briggs in response to our September article, "The Pop Chart Battle of Cardi B versus Taylor Swift Is a Metaphor for Race Relations in Trump's America." Our sister site Jezebel also received a letter from Swift's people in response to their own September post, "Why the Creator of 'Feminist Taylor Swift' Twitter Wants Her Idol to Speak Out Against White Supremacists."
In both cases, Briggs cited an example of Swift denouncing white supremacy: a letter from Swift's representatives to Daily Stormer, demanding "removal and retraction" of their content about Taylor Swift. (Briggs did not send Splinter or Jezebel the letter in full, but quoted from it each time.)
Other writers have also begun coming forward with their own tales of Swift's attempts to get them to take down their work.
Being crowned the queen of a hateful group of people you want nothing to do with is really awful, but for someone with the kind of access and following Swift has, it could be easy to remedy. Going after writers who are either troubled by her silence or who can't help but see a parallel between Swift singing about people stealing her "kingdom keys" and the palpable white fear that comes through in chants like "You Will Not Replace Us" is foolish. It would be a lot easier for Taylor Swift to just publicly denounce the white supremacists hijacking her brand than to have her lawyers hounding journalists. Or maybe Reputation is full of anti-white supremacist songs and she's just biding her time? Seems unlikely.
I've reached out to Swift's representatives for comment and will update if I hear back.

And if you work for a publication that has received a cease and desist letter from Taylor Swift's lawyers (particularly regarding white supremacy), we want to know about it. Drop me a line at isha.aran@splinternews.com.