It was around half past six in the evening when Maile Hampton, an activist who identifies as genderfluid and prefers the pronouns "they" and "them," came home to a note from the Sacramento police. The note, Hampton said, asked them to contact the authorities.
"I put the note on Facebook," Hampton told me over the phone recently, "and 20 minutes later the police showed up to my house." It was the second time Hampton says they'd been visited by the police that month. But this time, Hampton was arrested—on a charge of lynching.
The 21-year-old recalls looking down at their brown skin and feeling confused and incredulous. "When I heard that I was being arrested [for lynching]," Hampton said, "that I had six white cops come into my home, arresting a black person for sticking up for people of color? It was clear motivation that I had to keep going."
As Jasmine Richards, a young black activist in Pasadena, serves a 90-day sentence as the first black person in America ever convicted of lynching, Hampton's story shows how California's lynching statute, peculiar to that state's penal code, is seen by black activists as a historically tone-deaf tactic deployed to suppress their right to protest.
G/O Media may get a commission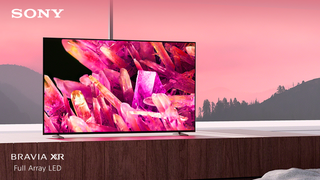 $400 off
Sony 55 Inch 4K Ultra HD TV X90K Series
Until the word was removed from the state's penal code following Hampton's arrest, California defined lynching—a felony crime—as when "a person…participates in the taking by means of a riot of another person from the lawful custody of a peace officer." The term, however, carries a heavy racial connotation. In the 19th and 20th century it was common for white mobs to overtake and kill blacks. The practice is not a distant memory either. In 1998 three white men chained the ankles of a black Texas man named James Byrd Jr. to their pickup truck and dragged him for three miles before he died.
Hampton's lynching charge stemmed from an incident nearly a month before their arrest. On January 18, 2015, they were involved in a protest to call attention to Sacramento's homeless population. Hampton told me they were very visible in that protest—and protests in general—and that on that day they led chants on a bullhorn. According to media reports, Hampton allegedly yelled at a police officer and grabbed an individual held in police custody.
In an email to Fusion, the Sacramento Police Department accounts for the delay in Hampton's arrest. "Hampton was observed committing the charged offense on January 18, 2015. The circumstances of the event were documented in a report and submitted to the Sacramento District Attorney's Office for review. An arrest warrant was subsequently issued for Hampton's arrest. Hampton was arrested for the warrant on February 23, 2015."
On the day they were arrested, Hampton's mother asked to see the warrant but the police shoved her aside, Hampton said. Hampton was taken to the station and questioned before being processed and spending a night in jail, they told me.
The lynching charges against Hampton were eventually dropped, but the activist still faces a misdemeanor charge of restricting, delaying, or obstructing delaying police officer or EMT, the Sacramento District Attorney's Office told Fusion.
Hampton does not know Richards, the activist who was sentenced on Tuesday to 90 days on the felony crime of lynching, but they remember seeing the story last year. "I was on Facebook last September and saw someone got arrested for lynching," they said. Prosecutors said Richards, a prominent Black Lives Matter activist, interfered with and tried to start a riot during the arrest of another person accused of battery.
The experience of being charged with lynching hasn't thwarted Hampton's political and social activism. A member of the Socialism and Liberation Party, a political party, and Act Now Stop War and End Racism, a national activist organization, they have recently been involved in protests in and around Sacramento against Donald Trump, the presumptive Republican presidential nominee. Hampton says they have been dealing with death threats from Trump supporters but continues to be motivated.
"When so many people and the system are going after you, you know that the things you're saying are powerful and true," they said. "And you know that they know the things you're saying are powerful and true," they continued. "And when you have that much support and when you have a lot of people who guarantee they're always going to be there for you because what you're doing is just, it just motivates you to fight even harder."
Collier Meyerson is a reporter at Fusion with a focus on race and politics. She lives in Brooklyn.