Jeb Bush and his supporters spent $130 million dollars to not win the presidency. He outspent every other candidate in advertising. He spent more on valet parking in eight months than a minimum wage worker earns in a year. Some of that money—untold sums, really—went to purchasing the small turtles he kept in his pocket. And for what? To lose an election and get made fun of like basically every single day.
This was a waste, imo. He should have done much better things/bought much better stuff with all of this money. Here are some ideas, from me, about what to do with a lot of money.* (Also: my fee as a financial advisor is $130 million.)
Buy this very nice island 86 times.
Jeb, you should have bought a nice island. It was a real bad move not to buy an island. Pretty Joe Island, as it's called on this website that helps people interested in buying islands buy islands, costs $1,495,000. It features, among other attributes, "ancient exposed reef" and "native vegetation such as black mangroves, sea grapes, and pitch apples, which attract a variety of migrating birds." Dolphins swim in the turquoise waters surrounding the island. You could have bought 86 of them.
Replace the cuts to Oklahoma's education budget that may force some public school districts to close.
G/O Media may get a commission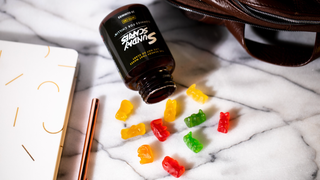 10mg CBD Gummies (22-Count)
Oklahoma is in the midst of a budget crisis, Jeb. Last month, the State Board of Education voted unanimously to approve $46.7 million in cuts, reducing the funding that goes to schools by $25 million. As a result, some public school districts across the state may have to close their doors to students. Jeb, you could have closed the school-specific hole five times over or taken care of the whole thing like three times. You could have done this in a lot of states! Instead, you spent like $2,800 for every vote you got in Iowa and spent $4,000 on food from places like Pizza Ranch.
Purchase this fancy apartment overlooking Central Park and then spend $30 million on some sweet as hell groceries.
Jeb, this 11,000-square-foot apartment overlooks Central Park, features six bedrooms, and, for an extra touch of elegance, offers marble baths in each of its seven bathrooms. What an apartment! At $100 million, you would have still had enough left over to spend $30 million on groceries, which means you could just go to the Whole Foods at Columbus Circle, grab a cart, and start throwing things in at random, Supermarket Sweep-style. You could have done this for literally the rest of your life and you still would have had a lot left over. Smh.
Put a pool in your backyard that has five waterfalls.
This pool has "five colossal waterfalls, a lazy river and a tunnel deep enough for scuba diving." Uh. Hello? Hello, Jeb? Do you read me?
Fund this Kickstarter for a book "celebrating the male body in all its glory" and then give the photographer an extra $129 million just for fun.
Alex Wightman, a fitness photographer from the United Kingdom, wants to publish a book of his photography of male bodybuilders. You could have really helped him out, but you didn't.
Send 500 kids to Harvard University just to see how they react.
Imagine sending 500 kids to college on a lark? Harvard costs more than $65,000 a year after you add boarding and other fees to the $45,278 tuition. Imagine not having to pay that? That would have been pretty nice.
But seriously. What if you had done that? Like, 500 teens would have listened to "Graduation (Friends Forever)" by Vitamin C and just thought to themselves, "Whoa, Jeb Bush is sending me to Harvard."
Send 2,000 kids to Hunter College, an excellent school.
New York, like many other states, has scaled back its funding for public education. Those costs have been passed on to students in the form of higher tuition. That said, Hunter is still a steal compared to private colleges. Total fees—including housing that costs more than the in-state $6,000 tuition itself—bring the cost of attendance up to just over $15,000. I went to Hunter and do you know what? I loved it. You could have given 2,000 New Yorkers the gift of a CUNY education! Instead, you ran for president. Why.
Buy a media company.
There's a promising new startup I've been hearing about called katiemcdonough.com
Pay Jim Gilmore to revive his candidacy.
Admittedly, you couldn't have done this until very recently, since Gilmore didn't drop out until after New Hampshire. But, imagine Jim Gilmore came back because you believed in him. Just imagine.
Buy 65 million Powerball tickets.
Because you never know, Jeb. You could win it all back and try again. So ask yourself: "Why not me?"
Next time someone considers running for president, they should consult me first so that I can tell them about the other, better, things he or she can do instead.
*I know that campaign funds can't actually be used to buy or do any of these things. Thank you and have a great day : )