Let's face it, regardless of the outcome, the 2016 election was a lot. It's safe to say that, whatever happens, we will all be at least momentarily grateful that the whole thing is over after November 8. But what does that mean for November 9? How will we come down from the 24-hour news coverage of Hillary Clinton and Donald Trump? Whether we're celebrating the victory of our preferred candidate or stocking up on canned food so we can spend the next four years in a bunker, November 9 is going to be a strange day. So we took the liberty of finding a few things you can do to unwind from the most stressful presidential campaign in modern history.
Exhale
Deep breaths, it's almost over. Soon you can try to learn how to relax again. And what better way than with a little meditation. On November 9, The Rubin Museum of Art in New York City is hosting "Exhale: Election Edition," a special edition of their mindfulness meditation program lead by meditation expert and yoga instructor Kate Johnson. Tickets are available for $15 on the museum's website. If you don't live in New York or can't make it out, the museum will also be livestreaming the event on their Facebook page.
Mock Donald Trump
No one knows how the election is going to end, but if the vast majority of polls and predictions are correct, Hillary Clinton looks poised for victory. And that will mean that Donald Trump will finally become the thing he fears most, a yuge loser. So if you're not a fan of Trump but are a fan of schadenfreude, you can join the 11,000 people who have already joined the Facebook event Point and Laugh at Trump Tower on November 9th. As the event's organizers describe it, "Together, we as a nation will unite… to let Mr. Trump know that we all view him as a tiny, little man [undeserving] of our respect." Don't live in New York? No problem, there are tons of Trump-branded properties all over the country for you to point and laugh at. The Facebook event for pointing and laughing at Trump's International Hotel & Tower in Chicago already has 3,000 committed attendees, with another 10,000 who say they are interested. You can even organize your own event at a Trump property near you!
G/O Media may get a commission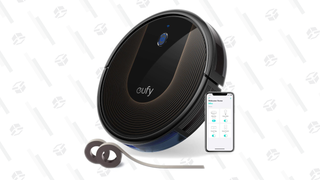 48% Off
Eufy BoostIQ RoboVac
Eat sugar
There's nothing like a sugar bender to soothe the soul after a long, stressful event. And because the election always happens right after Halloween, there is a ton of discount candy to sink your teeth into. That goes double for election-themed confections: You can expect to get at great bargain deals as they cease to be topical. The Ample Hills Creamery in Brooklyn, NY, debuted a new ice-cream flavor for each of the two major candidates during it's "Scoop the Vote" promotion. The Connecticut-based, Avery's Soda has a similar promotion, offering their customers the choice between Hillary's Hooch and Trump Tonic. Many purveyors of sweets around the country use similar gimmicks to boost their election year sales and, come November 9, at least one candidate's "flavor" is going to become a limited-time offer.
Get schwasty
Honestly, who couldn't use a drink after election day? Maybe that's why over 25,000 people have already signed up for the Facebook event "Get Blackout Drunk and Cry This Election Day." The event details on Facebook are terse: It lasts from right after the election on November 8 into the morning of November 9 and lists its location as "The Liquor Store at the End of History." That means you can attend wherever fine malted beverages are sold. So if you're 21 or older, grab a handle of something and drink until you forget the last nine months ever happened. (Note: we advise you skip this ritual if you took us up on our previous recommendation to eat a bunch of fucking candy.)
Celebrate 63 years of Cambodian independence
Hey, not everything revolves around U.S. politics, OK? November 9 isn't just the day after the election. It's also Cambodian Independence Day!  More than half-a-century ago, Cambodia threw off the shackles of French colonial rule and never looked back. So grab a plate of Prahok or Mee Kola and sing the Cambodian National Anthem, because this is the first day of 2016 that you don't have to care about what's going on in the United States.