The Oscar nominations were announced today, with the films "Gravity," "American Hustle" and "12 Years a Slave" receiving the most nominations. As the office polls begin and the stars prepare for their potential acceptance speeches for Hollywood's biggest night - airing on Sunday, March 2 - it's worth remembering just how a big a stage the Oscars provide, and how that stage can be used for more than just saying elaborate and occasionally repetitive "thank yous" or how cute your bubble butt is.
More than 40 million people in the U.S. watched the Academy Awards telecast last February. Another several hundred million viewers watched the international telecast.
So when anyone makes a political statement at the Oscar, those words are instantaneously beamed across the world. And sometimes those statements make history.
Take a look at seven of the most memorable political Oscar moments in years past.
1- Marlon Brando's Oscar Win for "The Godfather"
In 1973, the legendary actor declined the Academy Award for Best Actor for his performance in "The Godfather" because he was protesting Hollywood's portrayal of Native Americans in film. He sent a 26-year-old Native American activist and aspiring actress named Sacheen Littlefeather up to the stage to refuse the statuette and read part of a speech he prepared earlier.
G/O Media may get a commission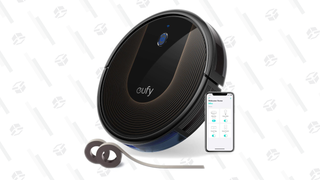 48% Off
Eufy BoostIQ RoboVac
The New York Times published Brando's speech in its entirety, an excerpt is below:
"When they laid down their arms, we murdered them. We lied to them. We cheated them out of their lands. We starved them into signing fraudulent agreements that we called treaties which we never kept. We turned them into beggars on a continent that gave life for as long as life can remember. And by any interpretation of history, however twisted, we did not do right."
2- Streaker Holding Up Peace Sign
In 1974 Robert Opel, a noted gay rights activist ran across the Oscar stage naked while he formed a peace sign with his fingers.
3- Halle Berry and the 'Faceless Women of Color'
In 2002 Halle Berry became the first black actress to win an Oscar in the best actress category. She took that moment to honor the black actresses that came before her who didn't have the same opportunities.
"This moment is so much bigger than me. This moment is for Dorothy Dandridge, Lena Horne, Diahann Carroll. It's for the women that stand beside me, Jada Pinkett, Angela Bassett, Vivica Fox. And it's for every nameless, faceless women of color that now has a chance because this door tonight has been opened."
4- Text Dolphins
In 2010 "The Cove" was awarded the Academy Award for Best Documentary Feature. The film's star, Ric O'Barry, took the stage and held a sign encouraging the Oscar telecast estimated 40 million viewers to text a phone number to get more information about his work with dolphins .
Natalie Portman Acknowledges Undocumented Immigrants
When Natalie Portman introduced best actor nominee Demián Bichir for his role in "A Better Life" in 2012 she identified his character as an "undocumented immigrant"—and not with the pejorative 'illegal' term.
Portman went on to close her introduction by saying "you gave a voice to the voiceless in the film "A Better Life."
5- Chris Rock Jokes About Roles Black Actors Get in Animated Films
"I love animation because in the world of animation, you can be anything you wanna be. If you're a fat woman, you can play a skinny princess. If you're a short, wimpy guy, you can play a tall gladiator. If you're a white man, you can play an Arabian prince. And if you're a black man, you can play a donkey or a zebra. You can't play white? My God!"
Rock was referencing his role in voicing a zebra in the animated film "Madagascar" and Eddie Murphy's role as Donkey in the "Shrek" series.
6- Sean Penn Mentions California's Anti-Same Sex Marriage Prop. 8
In February 2009, just a few months after California voters approved a ballot that banned same-sex marriage, Sean Penn accepted his Oscar for best actor in the film "Harvey Milk." The outspoken actor had some tough words for the proposed laws supporters.
"Finally, for those — two last finallys — For those who saw the signs of hatred as our cars drove in tonight, and, I think that it is a good time for those who voted for the ban against gay marriage to sit and reflect and anticipate their great shame and the shame in their grandchildren's eyes if they continue that way of support. We've got to have equal rights for everyone."

The 86th Academy Awards ceremony will take place Sunday, March 2, 2014. The ceremony will be broadcast on ABC, Fusion's parent company.