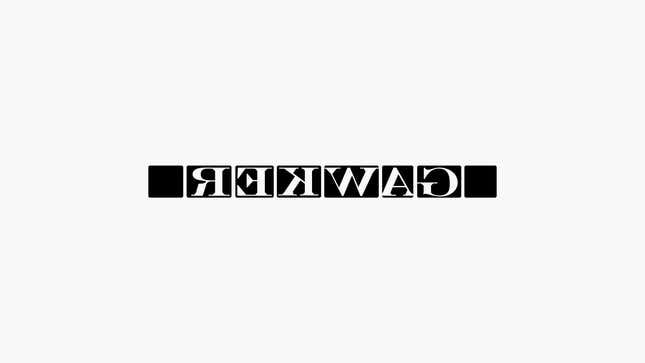 Gawker, a good website which was bankrupted in 2016 and then sold last year to Bryan Goldberg, a man committed to face-tuned photos of himself, creating shitty media companies powered by exploited labor, and spouting Richard Spencer-like bullshit about immigrant birth rates on Facebook, will be relaunched early this year. It will be led by Amanda Hale, who was most recently in charge of strategy and growth at the now-shriveled website the Outline. The staff—Carson Griffith, Ben Barna, Maya Kosoff, and Anna Breslaw—was announced today (hours after I messaged them saying I was naming them in this story) and holy shit!
A Business of Fashion article published last week about Goldberg and his company, Bustle Digital Group, said the new Gawker would "hire marquee writers and publish longform journalism." While some of the people who are on board, like former Vanity Fair writer Maya Kosoff, probably qualify as "marquee writers," Anna Breslaw and Ben Barna are relatively unknown. The other, editorial director Carson Griffith, who, going by her social media presence, appears to be a bigoted, overgrown sorority girl, is perhaps just someone in whom Goldberg recognizes himself.
In the spirit of Gawker, whose stated mission was to tell the stories journalists talk about at the bar after work, here's what we know about all the people who have been hired at the new Gawker (or who are rumored to have been approached about joining).
Carson Griffith, Editorial Director
Griffith was most recently the entertainment editor at Architectural Digest. Before that, she was a freelance writer, who delivered such gems as "Bill O'Reilly Reveals His Soft Side" (per public records from 2008, she's a registered Republican), and prolific tweeter: 

Griffith is 33 years old, so it's not like she posted these tweets when she was an idiot teenager. Anyhow, it's assured her valuable perspective of a rich white lady will be a guiding light for Bryan Goldberg's Gawker. Griffith did not respond to requests for comment.

Benjamin Barna, Senior Editor
Barna, a writer and editor whose website lists a number of celebrity profiles, was most recently the features editor at the now defunct Interview magazine, and describes himself on his LinkedIn as an "Experienced Senior Editor with a demonstrated history of working in the publishing industry." He did not respond to requests for comment.
Maya Kosoff, Staff Writer 
Maya Kosoff, who was Vanity Fair's tech writer until she announced in mid-December that she was leaving to start "something new in 2019," will be a staff writer at the new Gawker. As is the case with nearly every media company, the healthy future of Condé Nast, the parent company of Vanity Fair, is uncertain, but leaving a relatively stable job at a prestigious magazine for a Frankenstein start-up helmed by a repulsive dweeb like Goldberg likely means one thing: $$$$$. She did not respond to requests for comment.
Anna Breslaw, Staff Writer
In 2012, Breslaw wrote a story for Tablet Magazine titled, "How the cancer victim at the center of the AMC series [Breaking Bad] justifies my skepticism of Holocaust survivors." It is truly as wild as it sounds. Since then, she worked at Cosmopolitan and has been a freelance writer for the past three years, according to her LinkedIn. She was also a weekend editor for Jezebel from 2012 to 2013. She did not answer requests for comment.
Update, 1/23/2019, 11:55 a.m. ET: Kosoff and Breslaw have quit Gawker.com, the Daily Beast reported, after a series of alleged incidents involving their time working with Griffith and seeing the old tweets surfaced in our story. The two reportedly denied a severance package offered by Bustle Digital Group that would have included a non-disparagement agreement.
Two other people were rumored to have been approached by the new Gawker: former Gawker writers Maureen O'Connor and Gabrielle Bluestone. O'Connor, who wrote for Gawker from 2009 to 2012, and famously broke the story of the Republican congressman Christopher Lee trolling for sex on Craigslist, is a regular contributor to New York's The Cut and elsewhere. She is rumored to have taken a meeting about joining the new Gawker, but one would assume a paycheck would need to be pretty big to lure her back to the nub of her old employer. In fact, according to one rumor, O'Connor took a meeting and requested $1 million. When asked about whether she had met about a job with new Gawker and if she had indeed asked for a million dollars, O'Connor said: "I am unable to specify how many journalistic outlets are currently in the midst of million-dollar negotiations with me. Requesting and receiving a million dollars to blog happens with such frequency in my life that I can't count how many times it has happened."
Bluestone, who was most recently an editor at Vice News (her LinkedIn says she stopped working there in December), was also rumored to be considering a move to the new Gawker. Update, 2 p.m. ET: After publishing, I saw I had missed a message from Bluestone. She said: "I'm currently focused on the Fyre doc (Friday on Netflix!) but I've said it before and I'll say it again, Gawker was a good website."
Amanda Hale, who was announced as publisher last fall, describes herself on LinkedIn as a "a media executive with a uniquely multi-disciplinary background in sales/advertising/custom content, editorial strategy, product and more"is "leading the relaunch of Gawker," which she calls "one of the most legendary publications of all time." She also writes:

Some very nice people have said some very nice things about me in the press, like "Hale is a real go-getter" and "Amanda Hale has magically turned this crazy idea into a real business." Now that I'm publisher of Gawker, some other people will likely say some *less* nice things about me, but let's hope that's not the case (!).
If Hale is going to be the publisher of Gawker, she should grow some thicker skin and get used to the idea if people saying things that aren't "nice." For example, she deleted the following tweet after my colleague and former Gawker Media writer Anna Merlan tweeted that it was like "watching someone hump my dead aunt."
If you know anything else about the people who are or may be going to work for Bryan Goldberg at the new Gawker, my email is laura.wagner@deadspin.com.

Update, 3 p.m. ET: