If you've done something wrong or bad or otherwise shady, the week of Thanksgiving is a great time to announce it. Every year in America, people try to do this—make sure negative or bad stories about a company or person or just the world in general break on Thanksgiving or the day after Thanksgiving. The logic, I guess, is that there's just enough journalists working to report the stories, but not so many that they'll quickly snowball, and regardless everyone is hoping that the general public is too busy stuffing their faces or traveling to pay much attention.
This year, there were some doozies. I'll try to put as many as I can into this blog, but sound off in the comments if there's something else you saw slipped under the Turkey-table.
The U.S. National Climate Assessment went public. This is a government-funded, wide-ranging survey incorporating scientists from many different government departments that takes a look at how climate change is going to affect the country. The findings, of course, are grim. Eric Holthaus has a good thread breaking them down.
The report was supposed to come out next month, but was unexpectedly dropped today. What a coincidence!
G/O Media may get a commission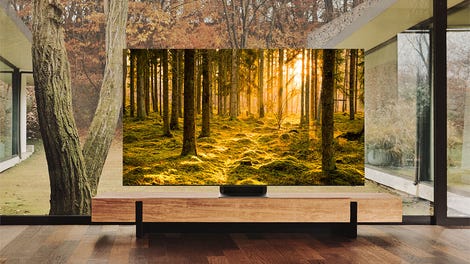 Up to 40% off
Samsung Smart TVs
Bill Shine, former co-president of Fox News Channel and current Comms Director for the Trump administration, is getting paid millions of dollars by Fox as part of a severance package, while still working in the White House. The White House released his financial disclosure forms today, after stalling for over three months. He's getting $3.5 million over this year and next alone!
Two nonprofit organizations owned by the Koch Brothers are funding the vast majority of the Daily Caller News Foundation and several other pro-Trump right wing media organizations. Sludge has the scoop, which is based on mandatory disclosures posted online by the Charles Koch Institute and Charles Koch Foundation earlier this week (surprise!)
Facebook admits that it asked the Definers PR shop to go after George Soros after the billionaire was critical of them. The company also found a fall guy, outgoing head of communications and policy Elliot Schrage, to take the blame for the pretty fucked up stuff that it was doing throughout the past year. In a blog post dropped at like 5 p.m. on Wednesday, Facebook made some key admissions backing up some of the worst allegations reported in an explosive New York Times piece posted on Nov. 14.
Republican members of the House Judiciary Committee Subpoenaed James Comey and Loretta Lynch on Wednesday, the day before Thanksgiving, asking the former FBI Director and Attorney General (respectively) to come in for private interviews in early December, to talk about Hillary Clinton's email server (everlasting sigh). Seeing as the House Judiciary Committee is about to get handed over to a Democratic majority in the New Year, this is the Republican's last chance to try and mess with shit.
Speaking of email servers, a White House review found that Ivanka Trump used a private email account to conduct government business up to 100 times and many more to coordinate scheduling, according to the New York Times. This one is pretty self-explanatory! The Washington Post first reported on the internal review, which technically wasn't publicly released, but it sure did leak at a convenient time.
I am undoubtedly sure I missed stories here, if there's something really big and obvious feel free to pop it in the comments or email me at jcrosbie@splinternews.com.