The saga of Kim Davis—in which a Kentucky county clerk has become the Little Engine That Could Not Issue Marriage Licenses to Same-Sex Couples on Religious Grounds—is so unnecessary and straight-up dumb, especially considering how unlikely it is that she'll emerge from this legal battle victorious.
Under Davis' command, the Rowan County, Ky., Clerk's Office stopped issuing marriage licenses to any couples—gay or straight—following the Supreme Court's ruling that marriage is a constitutional right for same-sex couples in June. A litigation nightmare ensued, and, late Monday night, the Supreme Court declined to back her claimed religious exemption. The justices were so unmoved by her appeal that, according to NBC News, they "denied her request without explanation in a brief one-line order."
Davis refuses to capitulate, and, as of Tuesday evening, she has yet to marry a single gay couple.
If there's a single bright spot in all this bullshit—other than the fact that, as I said before, it's highly doubtful she'll be able to keep same-sex marriage out of Rowan County forever—it's that the Supreme Court's order not to pursue Davis' case provides a delightful comparison to a gay-rights precedent from more than four decades ago.
In 1970, University of Minnesota law student Jack Baker and his lover, James Michael McConnell, applied for a marriage license. A Hennepin County court clerk denied their application, so Baker appealed the decision to the Supreme Court of Minnesota. The state Supreme Court ruled against him in 1971, so Baker appealed once more to the Supreme Court of the United States, which, in a unanimous ruling, dismissed the case in 1972.
G/O Media may get a commission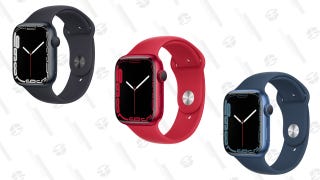 Up To $45 Off
Apple Watch Series 7
The justices explained why they had rejected Baker v. Nelson in a brief, one-line order.

The appeal is dismissed for want of a substantial federal question.
All nine justices agreed that marriage was not a constitutional right for same-sex couples in 1972, and so they dismissed the appeal outright with a brief, one-line order. Forty-three years later, the Supreme Court stood by same-sex marriage's constitutionality with a similarly brief, one-line order.
The two orders are kind of like bizarro bookends, if you think about it, propping up every volume of A History of Gay Marriage in America between them. If we want to go further with that solidly adequate figure of speech, I guess that would make Davis' refusal to issue marriage licenses completely non-canon. I'm OK with that.
Related coverage:
• Don't tell Kim Davis about North Carolina's religious exemption law
• Kentucky clerk still won't marry gay couples—Supreme Court be damned
• Meet the guy who set the legal battle for gay marriage in motion
Bad at filling out bios seeks same.