Four state branches of the Democratic Party sued Donald Trump's presidential campaign and a host of related organizations on Monday for what they allege are attempts to intimidate voters. The lawsuits, filed by the Nevada, Pennsylvania, Ohio, and Arizona Democratic Parties, ask for the courts to step in and give "declaratory and injunctive relief" to limit efforts by Trump's campaign to monitor polling stations.
The Democrats—who have been inadvertently assisted by unnamed Trump officials openly talking to Bloomberg about "voter suppression"—alleges that such election monitoring is a thinly-veiled ploy to harass voters in order to shrink turnout among people of color and other potential Hillary Clinton supporters. The suits name Trump's campaign, his longtime confidante Roger Stone, Stone's Stop the Steal organization, and the respective state Republican parties as defendants.
"There are only 8 days left until Election Day, and early in-person voting in Nevada is well underway," the Nevada Democratic Party's lawsuit, whose language closely resembles those of the other states, reads. "Trump's calls for unlawful intimidation have grown louder and louder, and the conspiracy to harass and threaten voters on Election Day has already resulted in numerous acts that threaten to interfere with the voting rights of registered Nevada voters."
"The Nevada State Democratic Party, and untold numbers of Nevada voters," the suit continues, "will suffer irreparable harm if the right to vote is imperiled by the same forms of virulent harassment that federal law has prohibited since shortly after the Civil War."
The lawsuits say that Trump and his allies' tactics are violations of the Reconstruction-era Klu Klux Klan Act of 1871 and the Voting Rights Act of 1965, which sought, respectively, to protect black Americans from mob violence and ensure that everyone, especially people of color, got fair access to the polls.
G/O Media may get a commission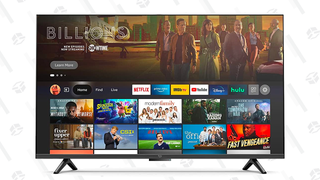 22% off
Amazon Fire TV - 50" Omni Series 4K - Early Access Deal
"I'm honored but the lawsuit is without merit and the lawyers who filed it could face sanctions," Stone told the congressional newspaper Roll Call. "We are not coordinating with the Trump campaign, the Republican National Committee or the individual Republican State Committees. We seek only to determine if the election is honestly and fairly conducted."
The court filings detail Trump's efforts to convince his legions of followers that the election will be "rigged" in favor of Clinton—a bogus claim based on the also bogus GOP claim that voter fraud is widespread—as well as documenting how the GOP candidate's supporters have reacted to his paranoid warnings. The lawsuits also cited a Boston Globe report discussing Trump supporters' plans to heed the candidate's call for vigilance and so-called poll monitoring.
"I'll look for… well, it's called racial profiling. Mexicans. Syrians. People who can't speak American," one Trump supporter from Ohio, Steve Webb, told the Globe. "I'm going to go right up behind them. I'll do everything legally. I want to see if they are accountable. I'm not going to do anything illegal. I'm going to make them a little bit nervous."
"Notwithstanding Mr. Webb's pledge not to do 'anything illegal,'" the Nevada lawsuit says, "the conduct in which he plans to engage on Trump's behalf—deliberately targeting of minority voters via 'racial profiling' in order to 'make them a little bit nervous' while they are attempting to vote—unequivocally violates Section 11(b) of the Voting Rights Act."
The Trump campaign's own poll-watching efforts are being led by Mike Roman, the man behind the New Black Panther Party hysteria and a sometime spy for the right-wing billionaires the Koch brothers.
The lawsuits all ask the courts to make declarations supporting their conclusions, in addition to calling for injunctions preventing the defendants' "'exit polling' and 'citizen journalist' initiatives," which the lawsuits claim are illegal. The state parties also want the courts to end the defendants' efforts to fund, train and organize poll-watching, harassment of voters.
"An injunction against the Trump Campaign and its co-conspirators' planned intimidation tactics," says the Nevada lawsuit, "is the only way to protect thousands of Nevada voters from harassment, threats, or intimidation that could discourage them from voting in the upcoming election."
Ali Gharib is a journalist based in Brooklyn. Sometimes he writes about bars and broke down cars.