TAMPA—Carlos Frontela didn't want to go to sleep. Every time Fox News displayed the latest states that his man Donald Trump won this election night, he yelled at the top of his lungs, "I believe that we will win!"
But when Florida flashed on screen, the loudest man in the room became cautious.
"I'm hoping for a long night,' Frontela, 42, told me at a pro-Trump viewing party. "If they call it early, Trump is over. The only chance we have for Trump coming out [on top] here is a long freaking night."
The atmosphere of this local bar was charged. When Fox News posted the numbers for Illinois—the first state that Hillary Clinton won—everybody started shouting, "Lock her up! Lock her up!"
G/O Media may get a commission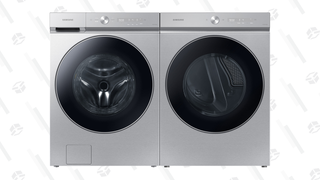 Get $500 back in credit
Last Chance: Samsung Bespoke AI Washer and Dryer Preorder
"I smell an upset coming," said Frontela, a Cuban native and one of the few non-white people at the bar. Most of the crowd was white, grey (older), and red (Republican). A few had red faces from drinking, too.

Reeking of beer, another Trump supporter interrupted me as soon as I said the word "immigration."
"No rapefugees in America," Margie Lebman, 53, declared before spelling out the word, letter by letter. "R-A-P-E-F-U-G-E-E-S."
On her head, Lebman wore colored balloons twisted into the shape of a handcuffed Hillary Clinton in a prison suit. She pronounced Clinton's first name as "Hil-lie-ree."
"Because she's a liar," Lebman said.
When Fox News announced that Trump won Florida, the crowd's cheers were deafening. "Drain the swamp! Drain the swamp!" they shouted.
Then the red states kept rolling in. When Fox News said Trump captured Wisconsin and Georgia, Frontela yelled in Spanish, "This is finished."
Around 11:30 PM, the celebratory cake came out. A simple vanilla cake, it had "Donald Trump 2016" written in the middle, and was framed by banners that said "USA."
The crowd cheered again. "Make America Great Again" hats were passed around to anyone with a head on their shoulders. One woman chanted, "Brexit! Brexit! Brexit!"

Hillsborough County, whose county seat and largest city is Tampa, is one of Florida's deep-blue pockets. On Tuesday night, Clinton won the county. Since 1960, whoever won Hillsborough also won all of Florida—and the election. Precedent dictated that if Trump lost, here, he would lose the presidency.
But this isn't a normal election, and precedent has proven to have little value.
As the celebration continued, chants of "lock her up" echoed into the cool Tampa night.
Daniel Rivero is a producer/reporter for Fusion who focuses on police and justice issues. He also skateboards, does a bunch of arts related things on his off time, and likes Cuban coffee.