"Memorial Day has always been a time of unity for our nation," Marco Rubio opens a new Facebook video posted in honor of Monday's holiday. "It's a time when we put aside partisanship and politics and come together."
About 20 seconds after talking about putting politics aside, the Republican presidential hopeful begins laying out a general overview of how the armed forces will be treated once he is in the Oval Office.
"As president, I will devote the necessary resources to our national defense," he says, "I will ensure that they never are sent into a fair fight but rather are always equipped with the upper hand."
The Florida senator wasn't the only candidate to share Memorial Day-themed messages on Twitter and Facebook on May 25—although his were the most explicitly tied to his presidential campaign.
G/O Media may get a commission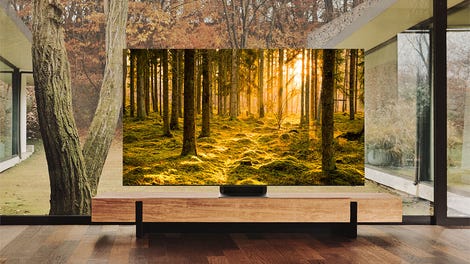 Up to 40% off
Samsung Smart TVs
Hillary Clinton, Carly Fiorina, and likely candidates Rick Perry, Rick Santorum, Mike Huckabee, and Bobby Jindal posted short messages on social media asking their followers to "remember" the sacrifices America's servicemen and women have made over the years.
Ted Cruz, Ben Carson, and Rand Paul arrived at the same destination by taking a different route, imploring their followers to "never forget" those sacrifices instead.
Dr. Carson and Ohio Gov. John Kasich, who has yet to formally declare his candidacy, also shared a new Memorial Day tradition with their followers: the patriotic act of quoting oneself.
Presumed GOP candidate Jeb Bush tweeted that he had taken the #GoSilent pledge, which entailed participating in a moment of silence at noon in honor of the nation's deceased veterans.
As yet undeclared presidential hopeful Chris Christie took no such vow. The New Jersey governor shared that "words alone cannot fully express our gratitude"—but that didn't stop him from sending out four more messages.
Vermont senator Bernie Sanders tweeted a message in support of taking care of veterans and marched in one of Vermont's annual Memorial Day parades. One of his potential competitors for the 2016 Democratic nomination, former Rhode Island governor Lincoln Chafee, posted John McCrae's famous war poem "In Flanders Fields" on Facebook.
And last, but certainly not least, Donald Trump took to Twitter to wish everyone a Happy Memorial Day—even all the "haters and losers." So thoughtful.
Bad at filling out bios seeks same.