This morning, blonde Australian human Iggy Azalea dropped the debut single from her upcoming album. On "Team," Iggy sings, "Baby I got me/And that's all I need/Baby I got me/Only friend I need/Playing on my team."
While it is true that she sings both the verses and the chorus (a departure from her most recent hits, "Pretty Girls" with Britney Spears and "Black Widow" with Rita Ora), it certainly took a TEAM to write this song. 12 people, to be exact.
Here are the writers credited on Iggy Azalea's "Team"
Ryan Anthony Avilez: I cannot find any other credited songs for Mr. Avilez.
Alexander Palmer: This man is primarily a composer, but has writing credit on this song.
G/O Media may get a commission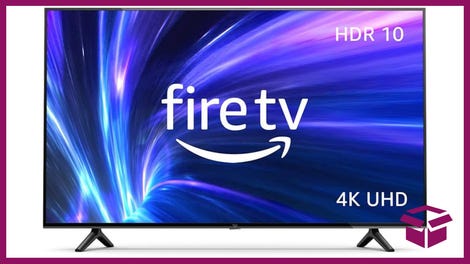 42% Off
Amazon Fire TV 50" 4K Smart TV
Brandon Salaam-Bailey: AKA Lukas Ka$h. He's part of the American pop group Fly Panda. He was on tour with Iggy Azalea in 2012 and is a rapper.
Louis Harden: Louis Harden Jr. also worked on this song. His Twitter account features a bunch of vids of him with Iggy.
Dwayne Carter: Lil Wayne probably got involved on this song because it samples Juvenille's "Back that Azz Up," on which Lil Wayne is featured.
Byron Thomas: This man gets a writing credit because he has writing credit on Juvenille's "Back that Azz Up," the sample used.
Amethyst Kelly: AKA Iggy Azalea. This is normal. Rappers historically write their own raps. Okay.
Terius Gray: He's here for the same reason as Byron Thomas.
BLETA REXHA: AKA Bebe Rexha. Bebe is an Albanian-American singer-songwriter. She's most famous for her duet with G-Eazy "Me Myself & I," which is currently number 7 on the Billboard Hot 100.
Marlon Barrow: He's a producer and writer who has worked with Ty Dolla $ign.
Michael Fonseca: Fonesca is a composer who most recently worked with Fall Out Boy on American Beauty/ American Psycho.
Lauren (Edwards) Christy: Lauren Christy is a singer and songwriter who has been nominated for 7 Grammys. She's worked with an all-star lineup, including Kelly Clarkson, Avril Lavigne, Andra Day, Bebe Rexha, Shakira, and Rihanna.
Even thought three of the "writers" on this song came from the track sampled, it still took 9 people to build "Team." This number of composers on a single song isn't that uncommon. Rihanna's "Needed Me," off her recent album Anti, for example, has 10 credited writers. Most pop stars require a team of people to create their singles, which is often a huge source of criticism, but completely expected.
Unlike straight pop music, though, rap music has remained fairly limited in the number of composers used to create a hit. A better comparison for Azalea would be the lyricists credited on Nicki Minaj's Pinkprint. "Only," "Trini Dem Girls," and "Bed of Lies," all have 8 writers credited. The difference, though, is that all three of those songs have featured artists who get a credit.
Even for Azalea, 12 writers is a lot. The song with the highest number of writing credits on her previous album, Reclassified is "Change Your Life," with 7 writers, and it has a featured artist (T.I).
Iggy Azalea has been criticized since she released her first album, The New Classic:  She's been accused of cultural appropriation and critics have questioned her ability to rap. Her onstage mistakes have been turned into Vines and memes. So it's interesting that on "Team" she's taken an intentional departure, and embraced a pop influence—and the mass of writers that comes with it.
But even for a pop song, 12 writers sure does seem like a lot.
Kelsey McKinney is a culture staff writer for Fusion.