Running for president is expensive. Of the five Democrats and 14 Republicans who have announced their candidacy for the 2016 election, eight have already opened official online stores. In alphabetical order, they are Hillary Clinton, Ted Cruz, Mike Huckabee, Bobby Jindal, Rand Paul, Rick Perry, Marco Rubio, and Bernie Sanders.
These shops are stocked with everything from bumper stickers and yard signs to T-shirts and ball caps — and much, much more. Clinton and Paul offer unusually eclectic merchandise, with the former Secretary of State selling gold flash tattoos and a "Grillary" apron on her site, and the Kentucky senator selling a bag toss game and a giant birthday card on his.
What if you really wanted to show your support for a campaign — by purchasing one of every single branded product they're peddling? Here's how much that would cost you, depending on your candidate of choice.
Paul's store is the largest and priciest by a considerable margin. His shop offers more than twice as many products as runner-up Clinton's, for nearly seven times the total cost. On the other end of the spectrum, Jindal currently sells just one item, a T-shirt.
G/O Media may get a commission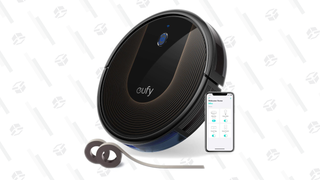 48% Off
Eufy BoostIQ RoboVac
Some interesting takeaways:

Clinton is the only candidate to offer store gift cards. They're sold in denominations of $10, $25, $50, and $100.
Four candidates sell polo shirts and they are all Republicans: Paul, Rubio, Cruz, and Huckabee.
Sanders' store boasts the lowest median price per item ($5) of any candidate. At $30, Rubio and Cruz are tied for the highest.
Only Clinton and Paul sell clothing for children and babies.
Sanders and Cruz are the most accommodating of plus-sized supporters, offering T-shirts in sizes up to 4XL. Perry is the least accommodating, with XL being the largest size he stocks.
Both Democrats sell LGBT pride-themed apparel.
In case you're curious, here are the single most expensive items on offer in each candidate's online store.
Rand Paul: $1,000 for an autographed pocket Constitution (or for an autographed copy of Time Magazine)
Hillary Clinton: $100 for a 4'x6' banner
Ted Cruz: $50 for his book, A Time for Truth: Reigniting the Promise of America
Marco Rubio: $45 for a "Marco Polo" shirt
Mike Huckabee: $28 for a "Huckabee 2016" polo shirt
Rick Perry: $25 for a hat
Bernie Sanders: $20 for a jumbo coffee mug (20 oz)
Bobby Jindal: $20 for a T-shirt (again, this is the only product he sells)
Molly Fitzpatrick is senior editor of Fusion's Pop & Culture section. Her interests include movies about movies, TV shows about TV shows, and movies about TV shows, but not so much TV shows about movies.