Pre-election, Silicon Valley was not for Donald Trump. Many of the industry's most well-known players saw him as a potential disaster, and tech workers gave 60 times more money to Clinton. The notable exception is very rich schmo Peter Thiel, who put more than a million dollars towards the president-elect's victory.
Now, the tech industry is trying to figure out how to navigate a Trump presidency. For a few, the answer is 'maybe you don't:' Venture capitalist Shervin Pishevar—who invested in Airbnb and Uber—and a handful of others have started suggesting that California secede from the U.S.
Some founders, venture capitalists, and CEOs have stopped short of advocating secession, but have still expressed (to varying degrees) dismay, or at least concern, at Trump's victory. Tesla's Elon Musk said before the election that Trump "probably wasn't the right guy" for the presidency. On Wednesday, he retweeted Glenn Greenwald sharing a Scientific American article on how Trump has appointed climate change skeptic Myron Ebell to lead his administration's takeover of the Environmental Protection Agency.
That isn't an explicit statement (and Tesla declined to comment), but it seems fair to say that Musk—who deals largely in electric cars and solar energy—isn't thrilled with our new political reality.
G/O Media may get a commission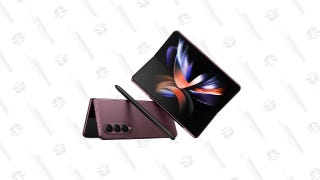 Save Up to $300
Galaxy Z Fold4
Twitter founder and CEO Jack Dorsey didn't refer to Trump by name, but fired off a series of tweets talking about protecting one another and holding power accountable.
It would be great if Dorsey applied that thinking to his company's vast failure to handle abuse.
Y-Combinator head Sam Altman, who was under fire last month after he refused to fire Thiel from his part-time job as a partner, was upset on election night:
And followed up shortly afterwards:
Thiel, meanwhile, is thrilled. Or at least as thrilled as he ever appears to be in public. In an interview with The New York Times—the primary paper he grants occasional access to, despite his disdain for "elite" media—Thiel said the victory was historic and that he'd be willing to help the future president. He also alluded to, as he did in a speech at the National Press Club on October 31st, others in Silicon Valley who are silently Trump supporters.
Billionaire investors, like noted cowboy LARPer Chris Sacca, have vacillated a bit. Sacca, who opposed Trump, had this immediate reaction:
Then this:
We in the tech community are willing to work with President-Elect Trump to help those Americans who need it most. The door is open.

— Chris Sacca (@sacca) November 9, 2016
Sacca's tweets, assume that not actively working with Trump is the equivalent of "sitting on our hands." But he seems to have backpedalled a bit, or at least publicly needle Trump some more.
Amazon's Jeff Bezos, who also owns The Washington Post, a paper whose reporters were at one point blacklisted by Trump, offered a similar sentiment minus, uh, any dismay:
Microsoft CEO Satya Nadella did pretty much the same in a LinkedIn post (hehe), before linking out to a blog from the company's president about education and infrastructure.
Ellen Pao, who served as Reddit's interim CEO before being ousted and starting diversity initiative Project Include, shared an article on how Trump's win drove private prison stock up. She also retweeted information about a trans suicide hotline and the so-called alt-right's reaction to Trump's win.
Apple CEO Tim Cook sent out a memo to the staff of the company —which declined to support the GOP convention this summer— saying they had supporters of both candidates on staff (without naming them). Ultimately, he concluded that "Apple's North Star hasn't changed" and instructed employees to "reach out to [their] co-workers if they are feeling anxious."
Mark Zuckerberg, founder and CEO of a company that maybe, sorta played some role in the outcome of the election, and who defended Thiel's position on Facebook's board last month, has been silent. On Wednesday, Zuckerberg posted a photo of himself and his infant daughter Max watching the election returns. The post said he was "feeling hopeful," and that "we are all blessed to have the ability to make the world better." He also alluded to ridding the world of all disease, a goal of he and his wife Priscilla's Chan-Zuckerberg Initiative). It did not mention Trump or Clinton by name.
Plenty of others—Airbnb's Brian Chesky, Snapchat's Evan Spiegel, Yahoo's Marissa Mayer, Alphabet's Eric Schmidt—have said nothing and not replied to request for comment.
This isn't that surprising. Except when politics immediately affect them, tech companies and investors tend to either stay silent or offer bromides about healing, hope, and working together. These are companies that want to make money, so they are going to lobby the majority GOP congress like crazy and seek contracts with the government Trump will take over. It's heartening to see some talk about political action from the Valley, but unless Trump's presidency starts majorly cutting into their bottom lines, I wouldn't count on much more than canned statements.
Ethan Chiel is a reporter for Fusion, writing mostly about the internet and technology. You can (and should) email him at ethan.chiel@fusion.net