The refugee crisis in Europe is not slowing down. People continue to flee unstable conditions in Syria, Eritrea, Afghanistan, and many more countries, to make their way to Europe, where they face the daunting challenges of finding a place to request asylum. That's especially complicated now in the context of the Paris terrorist attacks, which have already lead to a backlash against refugees.
Organizations like Doctors Without Borders and the UN's High Commissioner for Refugees are working to provide basic needs like health care and food for people arriving in Greece and Italy from the Mediterranean Sea, and those crossing the Western Balkans. But from far away we can use technology to change what happens to refugees when they arrive in Europe in search of safe shores by telling the world who they are and why they're arriving, and by providing refugees themselves with essential information on the ground.
At the 19 Million Project (a two-week conference and hackathon sponsored by Fusion and Univision), journalists, coders, and designers came up with some creative ideas to address the crisis. Here are a few of those projects.
Telling refugees' stories:

After months of media reports, there can be a sense of what's called "compassion fatigue" among people in countries hosting refugees. Imagine, instead of your usual news article, a building pops up in a public space in the middle of your town, which anyone can wander into to find interactive installations telling the stories of the refugee crisis. The Ultimum Refugium, a project designed by South African architect Nadia Tromp and Costa Rican film maker Elda Brizuela, will be what they describe as a "living museum" made from materials that can be packed up and moved between cities across the world impacted by the refugee crisis.
The idea of the moving museum is to encourage empathy for vulnerable people on the move. "We are interested in bringing the human aspect back to the story and giving faces and names to those affected," Tromp and Brizuela said in a statement. "The physical transformation of the landscape is temporary, but the transformation of peoples' attitudes that witness, contribute and experience the content of the museum, is permanent."
G/O Media may get a commission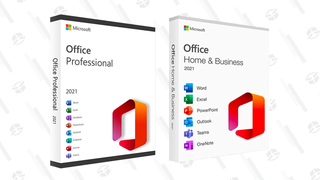 89% off
Microsoft Office Professional 2021 Lifetime License
Giving refugees the opportunity to speak for themselves and directly to the people in countries they're passing through or seeking asylum in is one way of creating a human connection. Another winning idea at the 19 Million Project, Migrant's Voice, proposes an app for refugees to use once they arrive in Europe and have access to mobile phones, to upload photos and video, with a live streaming option. They suggested setting up video kiosks that look something like bus shelters in universities and train stations, potentially with a camera and an option to send messages back to refugees.
Taking that interaction a step further, the third winning project at the conference, Moving Voices, came up with another plan to empower refugees to tell their own stories–a mentorship network between refugees and journalists. Those relationships would be beneficial for everyone involved, the group said, to create empathy without victimizing refugees.
Giving refugees the information they need to reach a safe place:

When refugees crossing the Mediterranean arrive on the beaches of Greece and Italy, they usually have very little with them. Sometimes, a few people on the boat will have a phone. One suggestion, from a team at the 19 Million Project called Being Here, is to provide SIM cards upon arrival, and kiosks with volunteers and computer access.
Being Here would expand on a project that's already up and running: Migration Hub, which is based in Germany and provides a network to connect refugees, non-profits and locals in Europe. That includes a website, First Contact, which provides that basic information for everyone involved, and a physical office space in Berlin and other cities for people to meet. "We had a feeling we need a space where people can connect because there are so many initiatives out there, and sometimes people forget to research and check if someone is doing something similar, and there is also this hurdle to actually approach someone," said Katharina Dermühl, one of the founders of Migration Hub.
RefugAid, another proposal from the conference, is based on a similar idea, but would focus on connecting non-profits with volunteers and supplies that they need. That information could also be useful as a database that could help governments and international aid groups decide where and how to allocate their time and money.
One person from each of the three winning teams at the 19 Million Project will be invited to the Vienna Hackathon in June 2016, organized by the Global Editors Network, along with teams from 15 different countries.