To celebrate the 20th anniversary of the sketch comedy show MADtv, former cast members will reunite for an hour-long tribute special tonight on The CW. The Mad Magazine-inspired series aired on Fox from 1995 to 2009 and featured 58 cast members in its 14 seasons. For the most part, it holds up better than it has any right to.
In hindsight, MADtv is a pretty fascinating cultural artifact. It served as a welcoming, ahead-of-its-time platform for performers of color and women—especially in comparison to Saturday Night Live–even though the material these actors had to work with often relied on racial, ethnic, and gender stereotypes. It's also clear now more than ever that MADtv was an incredible breeding ground for future comedy heavyweights.
Let's take a look back on the impact this show has had on the careers of its wildly impressive alumni.
[*Cast member was a featured player, not a repertory member.]

Craig Anton* (1995-1997)
G/O Media may get a commission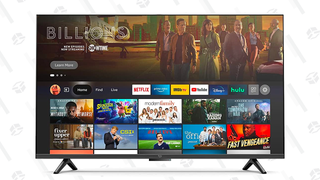 22% off
Amazon Fire TV - 50" Omni Series 4K - Early Access Deal
Characters and impressions: Clorox, Dennis Miller, Nate Richert (from Sabrina, the Teenage Witch)
Original MADtv cast member Anton played the father on the Disney Channel series Phil of the Future, the Dunder-Mifflin Albany branch manager on The Office, and Frank Gleason on Mad Men. (That's the Gleason—Ted's creative partner who suffers from pancreatic cancer–in Cutler, Gleason, and Chaough.)

Nelson Ascencio (1999-2001)
Characters and impressions: Ricky Martin, Enrique Iglesias, Rico Suave
You might recognize Asencio as Flavius, a member of Katniss' prep team in the The Hunger Games movies.

Erica Ash (2008-2009)
Characters and impressions: Whoopi Goldberg, Cerise Muhammad, Michelle Obama
Since leaving MADtv, Ash has earned roles in Scary Movie 5  (her character performs the Black Swan reimagined as a stripper) and Kevin Hart's reality show parody Real Husbands of Hollywood for BET.

Ike Barinholtz (2002-2007)
Characters and impressions: Dane Cook, Mark Wahlberg, Matt Damon
Barinholtz's nurse Morgan Tookers is arguably the most delightful part of The Mindy Project. His movie career is also taking off: He recently played Amy Poehler's love interest in Sisters, and has been cast in an unspecified role in Suicide Squad.

Alex Borstein (1997-2002)
Characters and impressions: Ms. Swan (which, in retrospect, was some serious yellowface), Cordo the Gap Troll, Jasmine Wayne-Wayne
Today, Borstein is best known as the voice of Lois Griffin on Family Guy, but her performance as head nurse Dawn Forchette on HBO's Getting On is not to be missed. (What is with MADtv alums playing hilarious nurses?)

Andrew Bowen (1998-1999)
Characters and impressions: Brad Pitt, Keanu Reeves, Christian Slater
Bowen landed recurring roles on ER, Reno 911!, and Magic City. He's also contributed voice acting to video games like Mortal Kombat X.

Matt Braunger* (2008-2009)
Characters and impressions: Careco, Charlie Sheen, Jimmy Kimmel
Besides performing stand-up on Comedy Central, the Late Show with David Letterman, and The Tonight Show with Conan O'Brien—back when those people still hosted those shows—Braunger has also been seen on Up All Night, @midnight, and Chelsea Lately.

Frank Caeti (2005-2007)
Characters and impressions: Baby Joey, Elmo, Kermit the Frog
Caeti's MADtv stint is his highest-profile gig to date, but since then, he's booked minor roles on Reno 911! (remember the cat man?), Key & Peele, NCIS, and The Hotwives of Orlando.

Frank Caliendo (2001-2006)
Characters and impressions: George W. Bush, John Madden, Al Pacino
The strength of Caliendo's impressions on MADtv landed him his own sketch show on TBS, Frank TV, which ran for two seasons. He appeared regularly on Fox NFL Sunday until 2012, when he decamped for ESPN's Sunday NFL Countdown.

Bryan Callen (1995-1997)
Characters and impressions: Pool Boy, Al Casdy, Jeremy Anderson
Callen was another original MADtv cast member. He's since gone on to appear on a wide range of television shows, including Oz, 7th Heaven, How I Met Your Mother, and Entourage, as well as movies like Old School, Bad Santa, and the first two Hangover films.

Mo Collins (1998-2004)
Characters and impressions: Lorraine Swanson, Alanis Morissette, Trina
Mo Collins is one of the greatest scene-stealers in comedy. You might recognize her as "business model" Starla from Arrested Development, speed-dater Gina (that's jEYE-nuh) in The 40-Year-Old Virgin, or Pawnee's very own oversexed talk show host Joan Callamezzo on Parks & Recreation.

Tim Conlon* (1997-1998)
Characters and impressions: One of the Hanson brothers (but in the future)
Conlon played Glenn, Cheryl's airplane seatmate and the man she leaves Larry for on Curb Your Enthusiasm, as well as Carl Grandy, husband to Mindy's best friend Gwen on The Mindy Project.

Andrew Daly (2000-2002)
Characters and impressions: Bill Maher, Carrot Top, Dick Cheney
You'll know Andy Daly as the Ben Franklin impersonator who hits on Pam on The Office, the middle-school principal engaged to April (Katy Mixon) on Eastbound & Down, or as various Reno 911! weirdos. He now stars as Forrest MacNeill on Comedy Central's Review, one of the bleakest (and funniest) comedy shows in recent memory. Also worth checking out: His great, freakishly high-concept podcast, The Andy Daly Podcast Pilot Project.

Lisa Donovan* (2007)
Characters and impressions: Kelli Pickler, Salma Hayek
A noted YouTube personality (as Lisa Nova) before and after appearing on MADtv, Donovan is also known for her Sarah Palin impression.

Christian Duguay (2000-2001)
Characters and impressions: Loopgarue, Jay Leno, Joey Fatone
In recent years, Duguay has worked as a producer on Rob Dyrdek projects like Rob & Big, Fantasy Factory, and Ridiculousness.

Dannah Feinglass* (2000-2001)
Characters and impressions: Angelina Jolie, Shirley Temple
The Israeli-born Dannah Phirman (she changed her name when she wed parody musician Mike Phirman of Hard 'n' Phirm in 2007) has contributed her voice to PBS Kids' WordGirl and Nickelodeon's The Mighty B. She also co-created and co-stars in Hulu's The Hotwives (on which she plays aspiring hotwife Alli), and can be seen as correspondent Narge Hemingway on Newsreaders.

Kathryn Fiore* (2001-2002)
Characters and impressions: Sorority sister Taylor Rosenblatt, Mandy Moore, Mary-Kate and Ashley Olsen
After leaving MADtv, Fiore popped up on Reno 911!, Charmed, Invader Zim, and Wedding Band. The arrival of Fiore's first child, Alice, made headlines in 2013 when the birth proved life-threatening for both mother and daughter. Fortunately, they're doing fine now.

Crista Flanagan (2004-2009)
Characters and impressions: Luann Lockhart, Wendy Walker, Miley Cyrus
Flanagan has worked consistently in TV through the years, but her most memorable role is surely Lois Sadler, the Mad Men switchboard operator who totally runs over that British guy's foot with a lawnmower. MADtv, Mad Men: it's a thing.

Pablo Francisco* (1997)
Characters and impressions: Rosa
Francisco's stand-up career really took off after he left MADtv, with his first Comedy Central half-hour airing in 2000. He's since toured with Carlos Mencia, made the late-night talk show rounds, and released his most recent hour-long special, They Put It Out There, in 2011.

Daniele Gaither (2003-2006)
Characters and impressions: Yvoone [sic] Criddle, Dilly Mae Jackson, Mary J. Blige
Gaither—only the second black female cast member on MADtv—has appeared on Key & Peele (you can spot her in the Pegasus sighting sketch), 2 Broke Girls, and Greek. She most recently recurred on Nickelodeon's The Thundermans as Super President Kickbutt.

Dahéli Hall* (2008)
Characters and impressions: Ray-Ray, Sista Revolution, Macy Gray
If you played Bioshock Infinite, there's a good chance you heard some of Dahéli Hall's voice work. Hall also wrote and starred in the HBO short films The Memo and Mandingo in a Box. She'll have a small role in Mascots, the upcoming Christopher Guest ensemble comedy.

Simon Helberg* (2002-2003)
Characters and impressions: The Queen of Queens (well, one of them)
Although he never rose above the featured player ranks on MADtv, Helberg is now well known to television viewers as Howard Wolowitz on The Big Bang Theory. Bazgo!

David Herman (1995-1997)
Characters and impressions: Mike Lawson, Tom Hanks, Marsh
You've heard this original cast member's voice work on Bob's Burgers (as Mr. Frond), Brickleberry (as Steve Williams), and Futurama (as Scruffy the Janitor), but you'll probably remember him best as the unfortunately named Michael Bolton in Office Space.

Chris Hogan (1997-1998)
Characters and impressions: John F. Kennedy, Miguel O'Reilly, El Asso Wipo
Hogan was later seen on Grounded for Life, Arrested Development, and The Sopranos.

Anjelah Johnson* (2007-2008)
Characters and impressions: Bon Qui Qui, Tammy
A former member of the Oakland Raiders cheerleading squad, the actress could later be heard in Alvin and the Chipmunks: The Squeakquel, Marmaduke, and The Book of Life. Johnson's third and most recent stand-up special, Angelah Johnson: Not Fancy, debuted on Netflix in October.

Nicole Randall Johnson (2005-2007)
Characters and impressions: Ka-Son, Darrell (as in "Can I have your number?"), Queen Latifah
Johnson has been featured in TV shows as varied as Hannah Montana and Weeds, but our favorite of her post-MADtv roles is as Michelle Obama's anger translator on Key & Peele.

Orlando Jones (1995-1997)
Characters and impressions: Dexter St. Croix, Reverend LaMont Nixon Fatback, Ice Cube
Original cast member Orlando Jones served as 7 Up's spokesman until 2002. He co-starred on Fox's Sleepy Hollow for its first two seasons.

Spencer Kayden* (2005)
Characters and impressions: –
Kayden is an accomplished Broadway actress. She came to MADtv after originating the role of Little Sally in Urinetown, and was nominated for a Tony in 2012 for her performance in Don't Dress for Dinner.

Keegan-Michael Key (2004-2009)
Characters and impressions: Coach Hines, Dr. Funkenstein, Jovan Muskatelle
Key and former MADtv castmate Jordan Peele (more on him later) are absolutely killing it: They just ended their acclaimed Comedy Central sketch show Key & Peele after five seasons. The comedy partners were also seen together in Fargo and the video for Weird Al's "White & Nerdy." Key currently costars on USA's Playing House.

Pat Kilbane (1997-2000)
Characters and impressions: Stan the Java Man, Howard Stern, Al Gore
Kilbane later found his way into Semi-Pro, Euro Trip, and My Name Is Earl, but one of his best-known credits dates back prior to his time on MADtv: Bizarro Kramer on Seinfeld.

Taran Killam* (2001-2002)
Characters and impressions: Justin Timberlake
Killam was hired for MADtv at just 19 years old, making him the youngest cast member of all time. He moved on to the greener sketch comedy pastures of Saturday Night Live in 2010. You may have also seen him in The Heat, 12 Years a Slave, or How I Met Your Mother (on which his wife, Colbie Smulders, co-starred as Robin).

Lisa Kushell (1997-1998)
Characters and impressions: Paula Jones, Sporty Spice, Farrah Fawcett
Now known as Lisa Arch, this actress has worked on kids' series like Cory in the House, Hannah Montana, and 100 Things to Do Before High School, as well as grown-up shows like Dinner and a Movie, Crank Yankers,. and Curb Your Enthusiasm.

Phil LaMarr (1995-2000)
Characters and impressions: Desperation Lee, Jaq the UBS Guy, Diddy
LaMarr's extensive voice-acting credits include Futurama (as Hermes Conrad), Samurai Jack, Justice League, and Foster's Home for Imaginary Friends. Before joining the MADtv cast, he played Marvin, an early casualty in Pulp Fiction.

Artie Lange (1995-1997)
Characters and impressions: White Momma, Joe Pesci, Roseanne
Lange, an original cast member, left MADtv while struggling with cocaine addiction. He's best known today as a successful stand-up comic and for his eight-year tenure on The Howard Stern Show. Lange's first memoir, Too Fat to Fish, became a number-one New York Times bestseller in 2008.

Bobby Lee (2001-2009)
Characters and impressions: Kim Jong-il, Connie Chung, Yamanashi
Bobby Lee was the only Asian-American cast member in MADtv history. You can find him in The Dictator, Pineapple Express, and Harold & Kumar Go to White Castle.

Michael McDonald (1998-2008)
Characters and impressions: Stuart, the Depressed Persian Tow Truck Man, Carrie Bradshaw
The longest-serving MADtv cast member has gone on to recurring roles on Clone High, House of Lies, Scrubs, and Cougar Town (he also directed episodes of the latter two shows).

Jill-Michele Meleán (2002-2003)
Characters and impressions: Drew Barrymore, Britney Spears, Vicky Chan
Meleán, the first Latina MADtv cast member, is a stand-up comic who made several appearances on Reno 911!. She's slated to appear in the upcoming Lonely Island-written comedy Conner4Real.

Josh Meyers (2002-2004)
Characters and impressions: Owen Wilson, Eminem, Spishak spokesman
Josh Meyers, brother of Late Night host and SNL alum Seth, had his biggest role to date as Randy Pearce on That '70s Show, Donna's (Laura Prepon) love interest after Eric (Topher Grace) leaves for Africa.

Christina Moore* (2003)
Characters and impressions: Christina Aguilera, Sharon Stone, Brittany Murphy
Speaking of That '70s Show, former MADtv featured player Christina Moore took over the role of Eric's older sister Laurie in 2003. She's also been seen on Hawthorne, 90210, and True Blood.

Arden Myrin (2005-2009)
Characters and impressions: Crafty Gal Kendra, Kourtney Kardashian, Goldie Hawn
Myrin has maintained a busy schedule of TV appearances both as herself and in character, including Chelsea Lately, @midnight, Psych, Orange Is the New Black, and Party Down.

Dan Oster* (2007-2008)
Characters and impressions: Jack Bauer, Matthew McConaughey, Michael Cera
Oster, a Boom Chicago alum, introduced the comedy video site Titled Sketch Project in 2010.

Nicole Parker (2003-2009)
Characters and impressions: Disney Girl, Pat-Beth LaMontrose, Gwen Stefani
The same year Parker left MADtv, she spent six months playing Elphaba in Wicked on Broadway, a role she'd later reprise in the musical's first North American tour.

Melissa Paull* (2003-2004)
Characters and impressions: Shannon Doherty, Jessica Lynch
Paull later landed parts on Curb Your Enthusiasm, The Shield, and Jimmy Kimmel Live!.

Ron Pederson (2002-2005)
Characters and impressions: Roland Backison, Adam Levine, Prince Harry
Pederson has an impressive theater résumé in his native Canada, including a 2011 Canadian Comedy Award for Best Male Improviser.

Jordan Peele (2003-2008)
Characters and impressions: Noodles, Dontel LaMontrose, Carroll Spiney (a.k.a. Big Bird)
As we mentioned previously, Peele—who has possibly the best Barack Obama impression ever attempted—and fellow MADtv alum Keegan-Michael Key just wrapped up their beloved Comedy Central sketch series Key & Peele. What's next for the two of them? Movies, including Substitute Teacher and Wendell and Wild. Among Peele's solo credits are Childrens Hospital, The Mindy Project, Kroll Show, and Wet Hot American Summer: First Day of Camp.

Eric Price* (2008-2009)
Characters and impressions: Gordon Ramsay, Darnell, Warren Buffet
Price lent his voice to the characters Paddy and Mooch in the first two Alpha and Omega movies, a 3D animated series about wolves in the Canadian wilderness.

Lauren Pritchard* (2008-2009)
Characters and impressions: Jo Frost (the Supernanny), Queen Elizabeth II, CNN anchor Candy Crowley
Pritchard's credits include Masters of Sex, the Disney Channel's Jessie, The Crazy Ones (that Robin Williams-Sarah Michelle Gellar show that was briefly a thing, remember that?), and three episodes of True Blood.

Jeff Richards* (2000)
Characters and impressions: David Letterman, Louie Anderson, Garry Shandling
Taran Killam wasn't the first MADtv cast member to find his way to Saturday Night Live: Jeff Richards was. His most popular character on SNL was the no-way-not-even-a-little-bit-problematic Drunk Girl.

Johnny A. Sanchez (2007-2009)
Characters and impressions: Wilmer Valderrama, Desi Arnaz, Al Pacino
Since leaving MADtv at the end of its run in 2009, Sanchez has been heard in Happy Feet 2 and seen on Raising Hope and Key & Peele.

Will Sasso (1997-2002)
Characters and impressions: Kenny Rogers, Bill Clinton, Steve Austin
Besides playing Curly in the 2012 reboot of The Three Stooges, Sasso has been seen on How I Met Your Mother, Entourage, $h*! My Dad Says, The League, Hot in Cleveland, and many more comedy shows. He is unbelievably good at Vine, particularly when he whips out his Arnold Schwarzenegger impression.

Mary Scheer (1995-1998)
Characters and impressions: Mrs. Jewel Barone, Killer Grandma, Barbra Streisand
Scheer's Wikipedia page contains this amazing sentence, (unsurprisingly) without citation: "She is known for playing crazy women in sitcoms and movies." A member of the original MADtv cast, she appears to have found a niche on children's shows like iCarly (as Freddie's mom), The Suite Life of Zack & Cody, and Bunk'd.

Aries Spears (1997-2005)
Characters and impressions: Eddie Murphy, Belma Buttons, James Brown Jr.
Spears, the second longest-tenured cast member after Michael McDonald, is a veteran stand-up comic who—since leaving MADtv—has acted on Damon Wayans' Showtime sketch show The Underground, The Boondocks, CSI: Miami, and Black Dynamite.

Nicole Sullivan (1995-2001)
Characters and impressions: Darlene McBride, Antonia, Lucille Ball
Sullivan has been very busy in the years since she appeared on MADtv, with recurring roles on Black-ish, Family Guy, Cougar Town, Scrubs, Kim Possible, and The King of Queens. She also starred in her own short-lived Lifetime series, Rita Rocks, about a working mom slash wannabe rock star.

Brooke Totman* (2000)
Characters and impressions: Jennifer Love Hewitt
The one-time Oregon's Junior Miss appeared on The King of Queens, Less Than Perfect, and Judging Amy in the early '00s. Today, she's an acting teacher based in Portland, Oregon.

Gillian Vigman* (2003-2004)
Characters and impressions: Kate Hudson, Calista Flockhart, Jennifer Aniston
Vigman starred in ABC's Sons & Daughters, had a recurring role in the first two seasons of Suburgatory, and played Bradley Cooper's character's wife in The Hangover and its sequels. She's also known for her Jack in the Box commercials.

Paul Vogt (2002-2005)
Characters and impressions: Cindy Delmont, Dale Briskett, Ben Franklin
The only openly gay MADtv cast member, Vogt later inherited the role of Edna Turnblad in Hairspray on Broadway from Harvey Fierstein. He often acts alongside his twin brother, Peter, with whom he's appeared in Arrested Development, Reno 911!, and the movie Valentine's Day.

Stephnie Weir (2000-2006)
Characters and impressions: Dot, Dr. Kylie, Anna Nicole Smith
A writer and producer on shows like Raising Hope and The Millers as well as an actress, Weir has recently brought her irresistible brand of mania to The Comedians, Crazy Ex-Girlfriend, Life in Pieces, and Key & Peele (as Hillary Clinton's anger translator).

Debra Wilson (1995-2003)
Characters and impressions: Oprah Winfrey, Whitney Houston, Melina
A fixture of MADtv from the show's first season through its eighth, Wilson has proven particularly successful as a voice actress.You've heard her on Family Guy, American Dad!, All Hail King Julien, the movie Avatar, and a wide variety of video games.
Molly Fitzpatrick is senior editor of Fusion's Pop & Culture section. Her interests include movies about movies, TV shows about TV shows, and movies about TV shows, but not so much TV shows about movies.