This week, the Trump administration is inching toward its long-promised reshaping of Title X legislation, a change that would entirely cut out clinics offering abortion referrals from the federal grant program.

On Friday Kellyanne Conway approached the president with a handy map of abortion-free care centers women could use as an alternative to Planned Parenthood, in an attempt to hasten the process. (Days later, of course, she was tweeting about female solidarity.)
Today, nearly 200 Republican members of Congress and the Senate released a letter demanding that the Department of Health and Human Services reshape the grant program along the same lines.

Some close to the administration predict the reshaping of Title X to defund Planned Parenthood and similar providers would look like the Reagan-era rules—budget provisions that, in their short duration, essentially prohibited providers receiving funds from the low-income grant program from uttering the word "abortion." If a woman visited a health clinic and was found to be pregnant, she had to be given a list of organizations offering prenatal care and social services for herself and her child. None of those services could offer to terminate a pregnancy.
The rule was tied up in the courts, but when it was once again briefly introduced in the '90s it was described in the New York Times as drawing "a brutal class distinction between women who could be given information about their legal rights to abortion and those who could not."
G/O Media may get a commission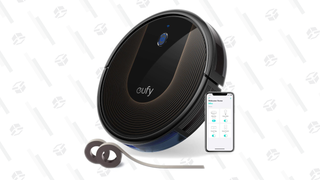 48% Off
Eufy BoostIQ RoboVac
Under rules like these, most women with private insurance would get information about abortions from a doctor. The people who have to rely on government-subsidized initiatives—the uninsured, for instance, or the vast numbers of immigrants and women of color who use Title X services—would not.

The administration has already flooded the Title X grant program with euphemistic language and suggested guidelines meant to control how care providers can speak to women about their bodies. Earlier this year, three months behind schedule, officials released a new blueprint for the program, which is the only federal grant system aimed at assisting low-income Americans with sexual and reproductive health care. The new version of the Title X guidelines require grantees to re-apply every year for the funding they receive. They also, through a weighted point system, encourage faith-based organizations and those who advocate "natural family planning" to apply—as well as groups "historically under-represented" in the program, opening up the doors for crisis pregnancy centers and "sexual risk aversion" programs to move in.
As part of this piecemeal dismemberment of reproductive services, the administration has also provided waivers to states seeking to make similar changes to Title X. Last month Nebraska passed budget legislation that prohibits state funding to any provider that gives abortion referrals, a move that will end service to an estimated 8,000 Planned Parenthood patients on July 1. The Heartland chapter of Planned Parenthood, which operates two centers in the state, says its "main message is that our doors are still open," and that they're still figuring out how to navigate the change. In Lincoln, Nebraska, they note, there is only one other Title X-funded clinic.
According to the Guttmacher Institute, a reproductive health think tank, Title X currently offers family planning services to 4 million people. More than 40 percent of them get that federally subsidized care at a local Planned Parenthood. The centers that receive Title X money do not perform abortions: They do provide counseling, cancer screenings, HIV testing, and contraceptive care.
Guttmacher has predicted that in order to absorb the patients now getting contraceptives and other reproductive services from Planned Parenthood, federally qualified health care providers would have to take on 2 million extra patients. Health centers in 27 states would need to double the number of contraceptive patients they treat, and in nine states, that number would triple. In a recent Kaiser study, the majority of community health centers reported that they were unable to shoulder an increase in new patients. Even Planned Parenthood had trouble handling the spike in demand for IUDs in the months leading up to the Trump inauguration.
In other words, we are in no way prepared for this. Last year, when an Iowa news station called the providers that the local legislature suggested could take the place of the nation's largest and most comprehensive reproductive health organization, they found the list of "federally qualified clinics" included a school nurse, a dentist and a homeless shelter. And we're facing a reproductive health crisis as it is. The rate of uninsured Americans is rising again; there's a shortage of nurses to provide whatever stop-gap reproductive care the GOP is praying for; Medicaid work requirements could kick tens of thousands of low-income people out of the health care system; and black mothers, who make up 30 percent of Title X recipients, are dying at a rate three or four times higher than white ones.
Pulling Planned Parenthood's funding would be, in many areas, logistically disastrous. And banning the word "abortion" in clinics that serve millions of low-income women, many of whom will have no other options for care, is unimaginably cruel.