Being a human sucks sometimes. We are so bound by our earthly perspective that grasping the staggering size of our planet's issues is practically impossible.
But thanks to a fleet of orbiting NASA satellites monitoring Earth, we get a fresh viewpoint that might drive us to curb some of our activities that contribute to climate change.
NASA released a compilation of images this week to commemorate Earth Day, and the results are spectacular. They call it the Earth Right Now project, and the tag line is fitting: "Your planet is changing. We're on it."
Some images show the results of catastrophic weather events, in which scientists believe climate change played a role. And others are just plain cool to look at.
Check out some of the most evocative images that the satellites captured:
Images of the Colorado floods of September, 2013. Acquired June 29 - September 17, 2013.

G/O Media may get a commission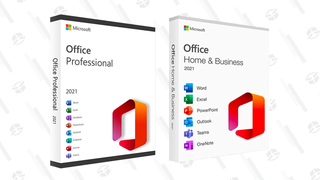 89% off
Microsoft Office Professional 2021 Lifetime License
On May 20, 2013, a supercell thunderstorm in central Oklahoma spawned a destructive tornado that passed just south of Oklahoma City. This six second clip shows the whole thing go down.

This map displays the fluorescence that plants emit when they undergo photosynthesis. You can see which parts of North America are agriculturally productive, and which are not. Those very bright spots represent the U.S.'s corn belt. Taken July 23, 2013.

This is what the San Francisco region looks like at night

This video shows extensive ice fracturing off the northern coast of Alaska. Though it looks catastrophic, this kind of fracturing is not unusual, NASA tells us.

This video shows the constantly changing ecosystem of the U.S./Mexican border in the El Paso/ Ciudad Juarez region. You can see the desert almost breathing around the cities as the years and the seasons press on.

And now, for all of these images and videos put together in one mega-video. Thanks, NASA!

Daniel Rivero is a producer/reporter for Fusion who focuses on police and justice issues. He also skateboards, does a bunch of arts related things on his off time, and likes Cuban coffee.