The Department of Homeland Security will run out of money on Feb. 27 if Congress does not act.
The House and Senate are at an impasse over a DHS funding bill, specifically over whether to defund President Obama's immigration actions. There's no clear solution in sight. House Speaker John Boehner (R-Ohio) said last weekend he is "certainly" ready to let the department's funding lapse.
If that happens, the agency will enter a partial shutdown. Homeland Security Secretary Jeh Johnson has warned of "terrible disruptions" to Americans' everyday lives if that occurs but some Republican lawmakers aren't as worried about the consequences.
Here's what would really happen if DHS shuts down.

The vast majority of employees would report to work.
Around 85 percent of the agency's 230,000-plus employees would continue to work during a shutdown, according to the Associated Press. That's because many DHS workers are deemed essential; they include TSA screeners, active duty Coast Guard, immigration enforcement officers, border patrol, and Secret Service agents, CNN reports.
G/O Media may get a commission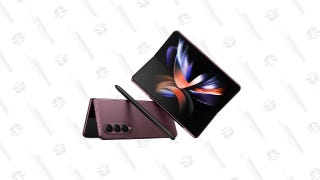 Save Up to $300
Galaxy Z Fold4
Furloughs would mostly affect the areas of management, research and development, and training, according to a Congressional Research Service (CRS) report detailing the effects of the 2013 government shutdown.

But many wouldn't receive a paycheck.
Most workers would not get paid until the shutdown is over. Congress would have to pass legislation that gives them back pay, which it has done during past shutdowns. Still, no paychecks could be a big problem for a workforce that suffers from the lowest morale of any federal agency.
Workers at fee-funded agencies that don't receive money from Congress, such as U.S. Citizenship and Immigration Services (USCIS), would continue to be paid during a shutdown.

DHS would still perform its core responsibilities.
Passenger screening at airports, border checkpoints and security operations, immigration enforcement, and Coast Guard patrols would all continue. The Secret Service would still guard the president and the Federal Protective Service would guard government buildings. FEMA's would carry out disaster relief efforts and operate its flood insurance program.

Obama's immigration programs will not take effect.
But thats because of a district court judge's preliminary injunction, not the shutdown. If the judge had not intervened, USCIS would have been able begin implementing the deportation-relief programs even as Congress squabbled over whether they should be defunded.

So what would shut down during the shutdown?
State and local law enforcement officers could not receive training at Federal Law Enforcement Training Center locations. Businesses would not be able to check the immigration status of new employees through E-Verify. FEMA could not provide flood-risk information to local governments. Research and development activities would be cut back. The department could not make new grants to local law enforcement agencies and civil rights complaint lines and investigations would be suspended, according to the CRS report.

There's a way Congress could keep DHS funded.
There's virtually no chance lawmakers will agree to fund the agency through the rest of the fiscal year. Members of Congress are currently on recess and both chambers are not in session together until Feb. 24, leaving little time to strike a deal.
There is a chance Congress could pass a short-term funding bill to keep DHS open while lawmakers work through their differences.

But a stopgap measure would have negative consequences for the agency.
According to Politico, Secret Service would not have funds to train agents to protect 2016 presidential candidates. Customs and Border protection would be deprived of tens of millions of dollars to upgrade mobile video monitoring of the Rio Grande Valley and X-ray cargo screening. And FEMA could not authorize grants providing money for new firefighter positions, modern equipment and salaries for local emergency management officials.
Jordan Fabian is Fusion's politics editor, writing about campaigns, Congress, immigration, and more. When he's not working, you can find him at the ice rink or at home with his wife, Melissa.