For many former white boy band members, the keys to transitioning to full-fledged adult star include muscles, showing off more skin, and more often than not, a flirtation with R&B. Last year, Nick Jonas did all of these things, only he added a notable twist: A full-on courtship—and embracement—of a gay fan base.
In September 2014, Jonas spoke to Logo's NewNowNext about this move with an admission of previous effort. First, Jonas explained, "I grew up doing theatre here in New York, surrounded by [the gay community] and loving it at a young age." Then he added that when it came to his past life as a member of The Jonas Brothers, "When my brothers and I started touring and had some success, naturally [gay men] became a pretty big part of our following. I don't know that we ever did enough to really own that."
The solution: "I really want to make an effort to embrace the community with open arms."
So he did. This included a spread in Flaunt magazine's "Grind Issue" that served as a tribute to Mark Whalberg's infamous 1992 Calvin Klein underwear campaign. Jonas was photographed in a homoerotic way—touching his crotch, revealing his very well sculpted abs and grabbing his own bare ass (taunting us). I imagine women enjoyed it, too, but if felt like a nod to the gay gaze. Additionally, Jonas has started frequenting New York City gay clubs—dancing to his new singles, lifting up his shirt to tease the boys (or gworls, depending on the gay you're talking to), looking quite awkward, but making an effort to engage.
G/O Media may get a commission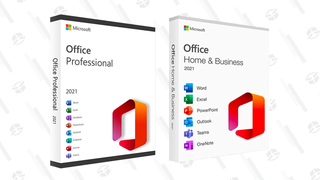 89% off
Microsoft Office Professional 2021 Lifetime License
He's also opted to play gay characters: First in Kingdom, and more recently, on Scream Queens. Although some were touched by his efforts—or at least titillated enough to embrace whatever Jonas served—others were less than impressed.
Enter Adam Lambert, who tweeted this time last year: "Anyone find it interesting how straight male Pop stars r pandering to gay audiences lately!? Should we be flattered? Progress or strategy? No shade. I just wanna hear about music! Not be teased on weather someone MIGHT be bi curious or gay or straight. Who cares?! Lol"
Jonas responded to this, telling PrideSource that "everyone's entitled to their opinion," but ultimately, "I think it's unfortunate that some people have to find a negative in every situation."
Later Jonas echoed this sentiment, and the manner of it bugged me. Speaking with Daily Star Online at the Radio One Teen Awards, Nick teased fans about the upcoming season of Kingdom – notably whether his scenes will get steamier. "Well I'm gay in Kingdom, if you keep watching the series you'll see more of that," Jonas said.
However, when asked if he had ever sexually experimented with another man, Jonas answered, "I can't say if I have or haven't, but if you watch the show you'll see more of that." Actually, you can say if you have or have not—especially if you've been essentially putting the tip in with your gay fans.
Jonas was once again asked about "gay baiting" and said, "In every situation when there's an opportunity to be negative some people find the need to be."
I loathe that he dismissed legitimate criticism under the very vapid pretense of "positive" or "negative." Not every critique is trying to call you the worst person who ever lived on this Earth. This is a silly deflection tactic.
I am appreciative that a straight American pop star isn't running away from the gay fans who helped make him a star. Even so, Jonas' methodology is a little heavy handed. Granted, I appreciate the sight of his body, but there's something irritating about Nick Jonas' refusal to answer whether or not he's ever actually experimented sexually with another man, given his consistent courting of gay fans.
In that context, it's perfectly reasonable for someone to want to ask that question. Jonas, who I don't believe is gay no matter how many prayers I aim at gay Jesus, could have easily just said something to the effect of, "No, I've never tasted a penis, but I'm all about equality and secure in my sexuality."
Jonas spoke to The Daily Mail about his diverse characters, saying, "I love the roles that I'm playing and I'm thrilled to be playing them." Likewise, he told Entertainment Tonight about Scream Queens, "I've been so honored to play some really strong gay characters."
That's nice. But the reality is Nick Jonas can be gay for pay—while actual gay entertainers often struggle for acceptance. Once they are clocked they have to contend with society's limitations of what they can do. Straight men can pretend to be gay and audiences will think nothing of it. The same even goes for women. But, once a man who actually loves other men shares this publicly, it's proven to be hard for the masses to believe him in any other role. The music business is not much different. As successful as Sam Smith is, he's only now embracing the idea of speaking for the LGBT community—because he had fears of being marginalized.
So while Jonas can say when it comes to his relationship with his gay fans that his "heart is in the right place," there's something to be said of knowing intent doesn't always negate impact. To wit, Jonas once told Canada.com, "I think it's important to be progressive and think progressively. When a heterosexual male takes a step forward and embraces [the gay community], I think it's probably better to rally behind it and know the intentions are in a good place, to trust that."
Sure, but it's just as important to know your role. I'm sure Jonas fancies himself as an ally, and to his credit, he is. Yet, there are certain responsibilities that come with being an ally–namely, answering the questions of those you claim to uplift in a thoughtful manner if they ask something that requires thought. Don't be elusive when you don't have to, Nick Jonas.
Just answer a very simple question. As nice as this courtship has been, there's only so much a nice torso and lower half can blind gay people to. Moreover, we can appreciate the nod, but know that it is not totally necessary. Not when "gay friendly" still manages to do more with gay imagery than actual gay people can.
Michael Arceneaux is a Houston-bred, Howard University educated writer who wants a show that'll allow him to recite UGK lyrics with Beyoncé. He's working on his first book, I Can't Date Jesus, for Atria Books.