Since the leak of a 2005 tape where Donald Trump gleefully discusses sexual assault, it's been hard not to notice dwindling enthusiasm for Trump among a few key constituencies; namely, a host of top figures from his own political party—and even a few of his campaign staffers.
On Sunday, a few notable (erstwhile?) Trump supporters literally disappeared—from Sunday show lineups. Trump's campaign manager Kellyanne Conway had been set to appear on both Fox News Sunday and NBC's Meet the Press this week, while RNC chair Reince Priebus had been booked on CBS's Face the Nation. All three programs announced over the weekend that they would be changing their line-ups. Conway and Priebus would be replaced in all three appearances by Trump's last high-profile public defender, Rudy Giuliani—whom everyone agrees pretty much bombed.
But there's much more evidence Trump is tanking—even among GOP politicians and professional operatives literally paid to boost the party he leads. Daniel Nichanian, a post-doctoral fellow at the University of Chicago, has created a running list of which Republicans have either rescinded their support for Trump or distanced themselves from him since the tape was released on Friday.
That list includes sitting senators John McCain, Rob Portman, Kelly Ayotte, John Thune, Cory Gardener, Shelley Moore Capito, Mike Crapo, Deb Fischer and Dan Sullivan, all of whom had previously said they were supporting Trump. In addition, Senators Lisa Murkowski, Jeff Flake and Mike Lee, all of whom had previously not committed one way or the other to voting for Trump, also used the video as an opportunity to reject their party's nominee.
G/O Media may get a commission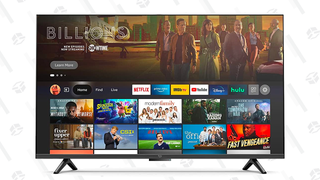 22% off
Amazon Fire TV - 50" Omni Series 4K - Early Access Deal
That means there are now 17 GOP senators who oppose their party's candidate—12 of whom announced their opposition after the video was released. Eight of the country's 34 Republican governors now oppose Trump and 32 Republican members of the House of Representatives, most of whom made the decision after the tape of Trump's lewd comments was released.
On Friday, The Washington Post first reported the previously unheard tape of Trump speaking on a hot mic as he arrived to film a soap opera cameo. Trump can be heard telling TV host Billy Bush about how he sometimes would "just start kissing" beautiful woman. He goes on to say that, when you are a star, "you can do anything" to women, including "grab them by the pussy."
Trump and Clinton will face off tonight in St. Louis for the second of three presidential debates. Following the debate, surrogates typically gather in the media "spin room" to try and talk up their candidate's performance. It remains to be seen if any Republicans—other than Giuliani—will actually show up to defend Donald Trump.