I was packed in a van full of Mexican punks, barreling down the dirt roads of Ecatepec, a sprawling and crowded Mexico City suburb. We were lost.
We spotted a teenager in a Ramones T-shirt and stopped to ask if he knew how to get to Ramones Casa Club, a DIY museum that pays tribute to the iconic New York punk band. We assumed that a passerby wearing the band's T-shirt would be able to point us in the right direction. But he had never heard of the place, which is apparently so off-the-beaten-path that neighborhood Ramones fans aren't aware of it.
We eventually found it by paying a taxi driver. He guided us to the bottom of a very steep hill, and after a brief but grueling hike, we finally arrived.
It was the museum's semi-regular Sunday concert, and about 50 leather-clad concertgoers of varying ages hung out on the building's rooftop with sweeping views of the hills of Ecatepec. For a $1 admission, Ramones fans had a place to listen to the music they love for an entire afternoon.
G/O Media may get a commission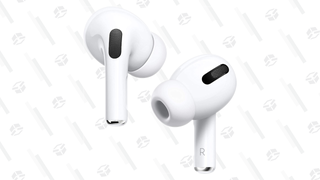 28% Off
Apple AirPods Pro Wireless Earbuds
Mexico City is home to an obsessive Ramones fan base, and the museum is a haven for rockers in the neighborhood, their families, and die-hard fans who make the pilgrimage to the two-story home-turned-museum filled with records, photos, skateboards, and other memorabilia.
Alejandro "El Roka" Garrido, 49, who runs Ramones Casa Club, has found solace in the band's fast, catchy music since he first heard them at 17.
"The important thing is that the Ramones invented a style of music that makes you forget about that shit," he told Fusion.
The Ramones aren't the only throwback band with a cult-like following in Mexico City. A slew of Beatlemania events were held in the Mexican capital over the summer, KISS had a roving photo show dedicated to them, and it's not unusual to spot a Misfits T-shirt during rush hour on the subway. Did I mention Mexicans love Morrissey?

Daniel Hernandez, author of Down and Delirious in Mexico City, traces the chilango obsession with rock bands back to El Chopo, the city's long-standing, weekly punk marketplace, famous as a meeting place for punks to trade cassettes and records.
"If you looked a little weird, if you liked rock music, the police would stop you on the street," said Hernandez. When the marketplace was founded in the 1980s, Mexican youth were being told to "settle down and become these homogenous Mexican citizens helping the country enter modernity. In that context, to be a punk was a full-scale rebellious act."
Garrido has been selling leather jackets at El Chopo since the beginning. Once, he even missed a Ramones concert for it, but he and his brother saw them play in Mexico City the next night. "My life is the Ramones. Seeing the Ramones was the culmination of a dream," he said.
With the help of a core group of volunteers, he built Ramones Casa Club two years ago. Much of the collection is Garrido's, but Arturo Vega also donated a lot. Vega, often referred to as the "fifth Ramone," was the band's artistic director, and created their logo. He was originally from Chihuahua, Mexico. Vega died in June 2013, one month after Ramones Casa Club opened. He was able to visit the new museum before his passing.
"We started this idea without thinking about money. We wanted to help new projects and bands. We do all of this with a lot of heart from all the people who are involved in this project," said Garrido, whose son and grandchildren live next door to the museum. He lives with his wife up the street. "It was all built with sincerity, honesty and simplicity."
Sin Solución is considered the resident band, and soon after we arrived to the show they took the stage—a balcony with Ramones murals painted on its walls. The three-piece band played a 20-minute set of simple chord progressions, a steady drumbeat, chanted lyrics, and a few Ramones covers.
"I didn't choose the Ramones, the Ramones chose me. They will forever be the best band in the world," said Jesús Angel Mejía, 26, the bassist and vocalist of Sin Solución.
"The people who come here all the time are people from this neighborhood," said Mejía. "People who share the same ideas about rock n' roll and punk music. People who wear the same kind of clothes. We are all friends."