CALI, Colombia — Jerry spends a good part of his workday watching women masturbate online.
He keeps five windows open on two desktop monitors, watching four naked women on one screen and some dude au naturel on the other. Most employers would frown on such behavior. But this is Jerry's job.
Jerry, 32, is a "moderator" in Colombia's booming adult webcam industry. From his desk on the third floor of Colombia's largest cam-girl castle — a five-story building where AJ Studios streams 30 live models 24 hours a day — Jerry manages five models. He directs their poses on camera and handles their private chats with clients.
—"Hi bb. hru???" types one of Jerry's models, a curvy redhead who's chatting with a client we'll call Zartan82.
G/O Media may get a commission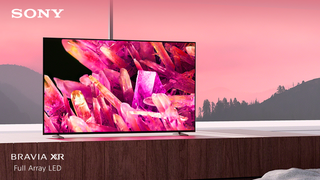 $400 off
Sony 55 Inch 4K Ultra HD TV X90K Series
—"Wife not home, trying to have fun," Zartan82 pecks back.
—"ready for u bb. wana have fun?" curvy redhead responds, bouncing playfully on the bed.
Enter Jerry.
"She doesn't know any more English than that, so this is where I usually take over," Jerry tells me as he picks up the conversation with Zartan82, who's none the wiser.
Jerry has gotten so good at his job that he carry on multiple conversations at once, pretending to be four different women and a gay man.
"As moderator, I end up in the role of pretending to be the model; I write words that come out of my head to get the guys even more excited," Jerry told me in Spanish. "Really, 100 percent (of the conversation) is with me."
Colombia, along with Romania, has fast become a world leader in the adult webcam industry. AJ Studios, Latin America's industry leader, says it employs some 300 Colombian models, who earn an average of $500-$1,200 per week, or about 4-10 times the average wage in Cali. The studio estimates the webcam industry in Colombia employs tens of thousands of people, although there's no way to count because the industry isn't regulated. In short, if you visit LiveJasmine.com, chaturbate.com, naked.com or one of hundreds of other livecam sites and click on "latin women," chances are pretty good you'll soon be looking at a Colombian woman in some degree of undress.
But the woman you're looking at might not be the one you're chatting with. Jerry says his models' English vocabulary is modestly limited to simple sex talk and body parts, much like that of a frat boy. Any other topic of discussion is out of their linguistic depth, forcing Jerry to commandeer the keyboard.
"It gets difficult, but we can still create a conversation where the client thinks the model understands him and is answering back," Jerry explains, as his eyes dart pendulously between screens. "There are some clients who really talk a lot, and you can see the model getting nervous because she doesn't understand what he's saying. So we tell her to relax and we'll take care of it…she just has to pretend like she's typing."
He estimates that 80 percent of the clients are English-speaking, and only 20 percent speak Spanish well enough where his translation services aren't needed.
The important thing, Jerry says, is to keep up the appearance of a fluid and private conversation, so the client doesn't realize he's actually chatting with another dude.

Pay no attention to the person behind the curtain
When it comes to conjuring illusions, Alejandra is the Wizard of Oz.
The 21-year-old Colombian went to university to study veterinary medicine, but as a webcam moderator who manages six camgirls, she now does everything but that.
"I do almost everything for (the models); all they do is show their faces," Alejandra tells me. "I tell them how to pose, exactly what to do — to put their hand here, and their foot there."
"I'm looking at their chats constantly in case a client comes in and asks for something," she says. "During the private chats, I'm also there reading everything that they say to her, and just helping them out. My job is pretty much to get them to earn as much money as possible."
Like the other 10 moderators who work for AJ Studios, Alejandra's job is a combination of stage director, image coach, fetish expert, translator, market researcher, and even marriage counselor for guys who want to pay models to go into a private chat just to talk about connubial matters.
Alejandra pulls the strings to make the shows happen. When a client recently asked one of her models for a "hair job," Alejandra quickly searched the web to find out what that was and whether they could do it.  (They did.) When another client offered to pay $450 to see one of the models dressed in a fur coat, Alejandra had to scramble to find one — not an easy task in sultry Cali.
In addition to monitoring her six models, Alejandra also watches other chat rooms and webcam sites to research trends and identify the "whales," or high-paying clients.
"Everyday I am looking at other girls who are doing good and I look at client names so I know this screen name paid that girl so much. So when those guys come in my room I've already seen their screen name and I know to target them. I know how to treat them a little more special because I already know they are a potentially good client," Alejandra says.
Similar to Jerry, who sits right behind her in AJ Studios' moderator command center, Alejandra says she's usually the one chatting with the clients.
"A lot of guys don't go for sex, they go for company. Most people who hear about this job think the girls are going to be doing it to themselves all day, but that's not even how it is," Alejandra says. "I have so many private chats that is just talking and talking and you get to know the clients. You learn that they have three children and a dog, they go to school, they work. It's people who after a long day of work, all they want to do is get online and talk to that one girl who pays attention to everything that they tell them. They go there because those girls hear them and pay attention to what they do and it really creates a connection."
The real connection that they're making, however, is with Alejandra.
"Most of the time when it's a long private in English, it's me chatting with them, but saying things that (the models) would say," Alejandra says. "I've always been real good at talking. Sometimes in a private chat the girls are like, 'please talk to them, I don't know what to say.' So I start chatting and chatting. I can talk all day."
Alejandra agrees it's important to maintain the illusion that the client is chatting with the model, especially in cases when the client turns on his own webcam so the model (and, unbeknownst to him, Alejandra) can see him.
"Very often the clients show you their cam and they are just a normal office guy sitting in their office when everyone else went to lunch — it's something that you wouldn't think," Alejandra says. "You can see just about anything. I have been working here for a year now and everyday I see something new. It's a Pandora's Box."

Earning the model's trust
While chatting with clients is all about the art of deception, the relationship moderators build with their models is built on trust.
The two work together in tandem, and both earn commission. That means the better the act, the more money they take home at the end of the week.
"I have to have a special bond with all of them; if we don't have chemistry, it's not going to work because it's a team effort," says Alejandra, who's younger than most of the models she manages. "I have to earn (the model's) trust so that they trust me enough to know that whatever I tell them to do will be the right thing to do, but also we never get to the point where I force them to do anything. I tell them if they don't feel comfortable doing something, I am not going to force them to do it."
For Jerry, developing trust with the models is even more important, since he doesn't have that natural sisterhood bond. He says it's one thing for unknown clients to be watching them online, but another issue to have a coworker watching them naked all day and giving them advice on what to do with their bodies.
"The first thing I have to do with them is win their confidence," he says. But in the end, the intimacy that the models develop with Jerry is much stronger than their bonds with paying clients.
"I know what mood they're in, and we become best friends. We have a good connection, because without a strong connection between the moderator and the model the whole thing can fall apart," he says. "We're a two-person team, model and moderator."

I can't unsee that
One of the biggest issues for the moderators is learning how to compartmentalize their lives to leave work at the office at the end of the day. After fielding bizarre fetish requests all day, and engaging in fake dirty chats for hours on end, it can be a challenge.
"I always try to keep the two worlds far apart, but now I know that somebody's dad could be lonely one day and go and watch cams, you know? I think about that a lot," Alejandra says. "Or I think, that guy could be a foot-fetisher. You think about people because you see them in their most private state. Things that they will not show anyone…When I walked into this job, I opened the door to a world that I didn't even know existed, and it's so big — it's so weird to think about how many people take part in this."
It's a world that Jerry tries to keep private from everyone in his real life, except for his closest friends and family.
"My girlfriend doesn't know I do this, and that could be a problem later," he says with a laugh. "I am seeing naked women all the time; it's not a good thing for her to know. So I just lie and lie and lie about this."