It kinda sounds like a bad Vin Diesel movie or something. But as you're reading this post—maybe wistfully in your cubicle or at home in your eatin' pants—a bunch of rich and often famous folks are whizzing along the highways, en masse, in some of the most rare and expensive cars on earth.
You don't have to know jack about cars to understand why this event—the Gumball 3000 rally, which kicked off this morning—is super sexy. The week-long, annual shebang brings together celebrities and hip one-percenters to drive a collection of more than 100 Ferraris, Lambos, and stuff you've never even heard of from city to city along a designated route.
Yes, that means on regular city streets and highways, 'cause technically, this ain't a race—there's no reward for being "first," and at the end of each day, everyone stops at the same city for a killer private party. (The parties also feature charity auctions; and there's a charity drive tied to the lead-up to the rally as well.) Race or not, those in-between stretches look pretty darn awesome sometimes—here's a video from last year's edition, during which the route went from Copenhagen to Monaco.
G/O Media may get a commission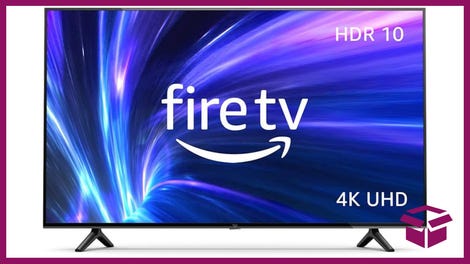 42% Off
Amazon Fire TV 50" 4K Smart TV
This year's edition might be the most ambitious (and, maybe, debauched) by nature. The Gumball 3000's official theme this year is "Miami 2 Ibiza," and yes, it kicked off in Miami this morning, and will end in Ibiza next Wednesday, June 11. Yeah, that means that after the cars drive to Atlanta and New York, they'll fly on Boeing cargo aircraft to the U.K., zip through the British Isles, and then get sent over water again to land on the Spanish island.
We checked out the kickoff scene early this morning, before the 10 a.m. flag drop signaled the Gumballers to wind their way out of the heart of South Beach and towards the first checkpoint, the Daytona International Speedway.
The starting grid stretched along the famous/infamous Ocean Drive—a stretch where only tourists go, but a picturesque one, ensuring plenty of gawkers for a house music-backed kickoff celebration.
This is what the street looked like full of fancy cars, ready to go:
Right after sunrise, racers' cars stayed protected behind barricades, which, obviously, got moved in time for the flag drop.
Here's the starting line early on. (True to Miami Beach brand image, don't you love the TRON-ish look of the old version of the city's cop-car logo?)
You've gotta love this one not only for its super in-the-spirit license plate, but for the fact that the driver also decided to spring for the special Florida license plate that donates money to panther preservation. Yay!
How do you know you have a super-expensive car? When the back is see-through so everyone can marvel at the parts inside.
Here's the thing, though: Each day of the Gumball 3000 requires covering serious mileage. And a lot of those exotic, high-speed cars are really meant for a track and not for prolonged driving. (I KNOW, RIGHT? CHANGE YOUR SHOPPING LIST RIGHT NOW!) So some repeat Gumballers opt for partaking in the overall rally experience, but in a slightly more practical car.
There's nothing modest about this paint job, though.
But here's our personal favorite debut in this year's Gumball… Everyone—Internet at large, meet the PURRARI!!!!!!
It's piloted by none other than super-producer Deadmau5, who's live-streaming his Gumball experience on his official website before he releases his excellent upcoming new album, while(1<2). (It's essential listening for true fans of this ever-evolving artist, trust us—but it's not out until June 17, so you can pre-order via iTunes for now.)
Yes, that's a Ferrari with a Nyan Cat theme, because Joel Zimmerman loves the internet. Inside, he's got an iPod hooked up to the stereo system, loaded with only one song: the Nyan Cat theme song.
Here's the Mau5 with the cat.
Not only is it rocking this sweet Purrari custom license plate, but Joel Z. had all the regular Ferrari logos replaced with "Purrari" and leaping cats.
Um, can we buy these floor mats when you're done with them, Joel?
But it's not all about cats. Dogs love Gumball, too.
Stay tuned to this site for more Gumball 3000 coverage and, very, very soon, an exclusive video interview with Deadmau5 and a closer look inside the Purrari.
Arielle Castillo is Fusion's culture editor, reporting on arts, music, culture, and subcultures from the streets on up. She's also a connoisseur of weird Florida, weightlifting, and cats.