The principal of a North Miami high school was removed from his position on Wednesday, after making a controversial comments on a recent police incident out of McKinney, Texas, on the Miami Herald's website.
The former principal, Alberto Iber, wrote a comment defending officer David Eric Casebolt, who was seen drawing a gun on black teens and throwing a black teenage girl to the ground in cell phone footage captured after police stormed a community pool party in McKinney last week. Yesterday, the officer resigned.
"He did nothing wrong," Iber wrote about Casebolt, according to the Miami Herald. "He was afraid for his life. I commend him for his actions."
The comment, which showed Iber's Facebook picture, name, school and title, was later deleted, but not before people took screenshots that were circulated around town.
G/O Media may get a commission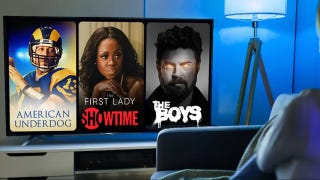 UNDER $1
99¢ Prime Video Channels
Alberto Carvalho, superintendent of the Miami-Dade School responded with a statement today, announcing that Iber had been removed from the position:
"Judgment is the currency of honesty. Insensitivity — intentional or perceived — is both unacceptable and inconsistent with our policies, but more importantly with our expectation of common sense behavior that elevates the dignity and humanity of all, beginning with children," Carvalho said.
Iber's comment drew extra criticism for the fact that North Miami is a predominantly black city. According to the Miami New Times, 99 percent of students at North Miami Senior High, the school where Iber was principal at, are non-white.
Alix Desulme, a Haitian-American city councilman who is also a school teacher, said he was "appalled" by the comment.
"For him to make such a comment is insensitive to the community," Desulme told the Miami Herald.
Before getting reassigned to administrative duty, Iber read a statement to the press on Tuesday, in which he said he meant to post the comment anonymously.
"I regret that I posted the comment as it apparently became newsworthy and has apparently upset people,'' he said. "That was not my intention in any way."

"I support law enforcement, and also the community and students that I serve as the proud principal of North Miami Senior High… The comment I posted was simply made as the result of a short video that I watched and my personal opinion."
Daniel Rivero is a producer/reporter for Fusion who focuses on police and justice issues. He also skateboards, does a bunch of arts related things on his off time, and likes Cuban coffee.