What happens when you're a House or Senate or White House aide who helped ram through a disastrous tax law that radically redistributes wealth to the already obscenely wealthy? You get a promotion!

Politico explained on Monday night:
Powerhouse accounting firm PwC landed one of the biggest prizes, announcing Monday that Mark Prater, the Senate Finance Committee's longtime GOP chief tax counsel, is the new managing director of its tax policy services group.

Others who have made the switch include a top aide to Senate Majority Leader Mitch McConnell (R-Ky.), Brendan Dunn, who joined Akin Gump Strauss Hauer & Feld in May as a partner in its public law and policy practice. Some less visible tax aides from both chambers have also gone through the revolving door to companies hoping to rake in new business and more profits from the package of tax cuts and legal changes.

And it's not just a Hill phenomenon.
Down Pennsylvania Avenue, Shahira Knight, who was at the negotiating table on behalf of the White House as the tax bill developed, is heading to The Clearing House, a banking policy and lobbying group, that company said Monday. Knight has previously worked as a lobbyist, as well as a Ways and Means staffer.
The House Ways and Means Committee had already lost its staff director to the lobbying firm Squire Patton Boggs, and several other lower-level committee House and Senate staffers have also departed. One, Whitney Daffner, left the Ways and Means committee to become the director of federal government affairs for Walmart. And Politico reported that more exits are expected soon, including House Speaker Paul Ryan's senior tax counsel George Callas.
There are a few reasons why they're moving on. One is that the Republicans may lose control of the House, which would throw a wrench into whatever garbage plans the Senate and the White House try to cook up next. But more importantly, they're cashing in after delivering the goods.
G/O Media may get a commission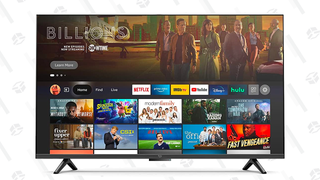 22% off
Amazon Fire TV - 50" Omni Series 4K - Early Access Deal
As the site noted, Prater and Dunn were each making $170,000 a year working in Congress, but are presumably making much more working for lobbying groups like Akin Gump Strauss Hauer & Feld, Dunn's new employer.
Akin Gump, in particular, has spent the most on federal lobbying out of any group over the past 20 years and is currently millions of dollars ahead of the second-biggest spender in 2018. Others on Akin Gump's payroll include two former advisors to Bill Clinton (Al From and Vernon Jordan), three former U.S. senators, two former congressmen, and a former Cabinet secretary.
So what's in it for groups like these? According to Politico (emphasis mine):
In addition to matching staffers' pedigrees to new employers' longer-term needs, Hill hires will bring short-term benefits by helping translate the legislative intent of the many tax law provisions going through the rulemaking process now and for the foreseeable future, Gerson said. That can give their new employers a big leg up on a complex law that faces a lot of regulatory uncertainty.
Write the law on a six-figure salary, then enter the private sector, where you get a hefty raise to help clients maximize their benefits under the law you just helped write. Sounds like nice work, if you can get it.