Early 2016 polls continue to show former Secretary of State Hillary Clinton building an impressive demographic coalition — even surpassing the heights President Barack Obama reached in 2008 and 2012 — and one that will make it tough for Republicans to beat if they hold up.
Most impressive: Her strengths with women — particularly college-educated women — and young voters.
"On the plus side, Secretary Clinton is considered a strong leader — a key characteristic for voters when picking a president, more so than her leading, but lesser-known, potential GOP opponents," said Peter Brown, the assistant director of the Quinnipiac University poll, which conducted surveys this week in the key swing states of Florida, Ohio, and Pennsylvania. "But about half the voters in all three states question her honesty and trustworthiness."
Still, many of those voters plan to pick her. The numbers show that Clinton has commanding leads over significant potential Republican challengers among those key demographics. Here's how she fares with young people aged 18-39 against select opponents:
Clinton 63, former Florida Gov. Jeb Bush 30 (Clinton leads 53-41 overall among registered voters)
Clinton 67, Texas Sen. Ted Cruz 26 (56-39 overall)
Clinton 64, Wisconsin Gov. Scott Walker 29 (54-40 overall)
Clinton 66, Florida Sen. Marco Rubio 26 (54-39 overall)
Clinton also has major advantages among women:
58-36 over Bush
61-33 over Cruz
60-33 over Walker
59-33 over Rubio
Here's a chart from Langer Research that demonstrates her dominance against those candidates:
G/O Media may get a commission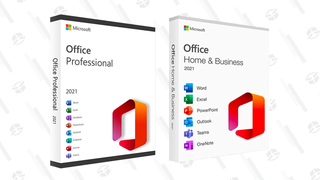 89% off
Microsoft Office Professional 2021 Lifetime License
The numbers are important for a couple reasons.
First, it wouldn't be crazy to think Clinton might have trouble luring young voters to her camp.
In 2008, the last time she ran for president, Obama walloped Clinton among youth voters in the Democratic primary. Her campaign at times almost dismissed young voters. After Obama tripled her share of the youth vote in Iowa, it made one of her top advisers say, "Our people look like caucus-goers and his people look like they are 18."
But so far, she's looking more like the Obama of 2008 than her 2008 candidacy (or Obama's 2012 numbers). Obama won 60 percent of the 18-29 vote in 2012, and 52 percent of the 30-44 vote, according to national exit polls.
Clinton's numbers in the recent polls align with those from Fusion's Massive Millennial Poll, which surveyed 1000 people aged 18-34 about everything from politics to dating to race issues. The February poll found 38 percent of the millennials surveyed — including 57 percent of millennial Democrats surveyed in the poll — prefer Clinton as president.
But also impressive in early surveys are Clinton's numbers among women. Obama earned 56 percent of the female vote in 2008 and 55 percent in 2012, and she's showing signs that she could truly dominate among female voters.
"Most notable on the Democratic side are Clinton's gender and racial gaps," Langer Research wrote in its analysis of its poll. "Some of these same patterns play out in general election preferences."
Those numbers largely hold up in three key swing states, according to Quinnipiac polls released earlier this week. Clinton's coalition remains formidable in Florida, Ohio, and Pennsylvania — and Republicans will almost certainly need to swing one or more of those states from the 2012 results to win.
Clinton trails Bush overall in Florida, but she has a 7-point advantage among women. And as National Journal points out, she earns half of the college-educated women's vote against Bush, far surpassing Obama's 42 percent in 2012. Against New Jersey Gov. Chris Christie (53 percent) and Kentucky Sen. Rand Paul (55 percent), those margins are even bigger.
In Ohio, she leads all candidates among women by double digits. Same goes for Pennsylvania, where she has at least an 18-point lead among female voters, including a whopping 23-point advantage over Bush.
A lot can change once the campaign officially begins — polls already show Clinton's favorability levels plunging from her grace period after stepping down as secretary of state. As And as she continues her campaign before the official campaign, the past few weeks have shown that she is anything but invincible in a likely run for president.
But the early surveys show her potential to not only match, but actually improve upon, Obama's 2012 performance in key demographics.
Brett LoGiurato is the senior national political correspondent at Fusion, where he covers all things 2016. He'll give you everything you need to know about politics, with a healthy side of puns.