Hillary Clinton says she has no plans to continue President Barack Obama's current role as "deporter-in-chief."
Clinton came out against the government's immigration raids during Monday night's Iowa Brown and Black Forum, but stopped shy of saying she would stop the deportation of Central American children seeking safety from violence back home.
Obama's government has deported more than 2.5 million people since 2009, and the administration's current set of home raids against women and children from Central America has drawn fire from rights groups and immigration activists across the country. All three Democratic candidates have expressed concern about the recent raids, but Clinton's condemnation has been the slowest and most tepid.
Clinton did, however, speak out more strongly about the raids during Monday night in Iowa. "I do not think the raids are an appropriate tool to enforce the immigration laws," she said. "They are divisive, they are sowing fear."
Clinton's campaign, meanwhile, took advantage of the Brown and Black Forum to announced its plans to end raids and help Central American refugees. The plan, which touches on many of the same issues that Clinton addressed at the forum, calls for an end to deportation raids, counsel for unaccompanied children, improved asylum laws and a crackdown on criminal organizations in Central America.
G/O Media may get a commission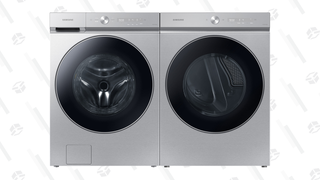 Get $500 back in credit
Last Chance: Samsung Bespoke AI Washer and Dryer Preorder
"Above all, we need a comprehensive, long-term solution to this challenge," the Clinton campaign said in a statement to the media.
The Democratic frontrunner couldn't, however, guarantee that her government would fully stop the deportation of children. Asked by Fusion's Jorge Ramos if she was willing to guarantee and end to those deportations, Clinton instead said she would work to ensure due process and that unaccompanied children receive government counsel.
Fellow Democratic challengers Martin O'Malley and Bernie Sanders issued strong and immediate statements against the raids, and O'Malley criticized her during his appearance at the Forum.
"I believe the enduring symbol of the United States is not the barb-wired fence, but the State of Liberty," O'Malley said.
Clinton does support immigration reform and a path to citizenship for undocumented immigrants, but her record on the issue is spotty. She opposed drivers' licenses for undocumented immigrants in 2007, a position she has since reversed, and last year called for the deportation of unaccompanied minors from Central America.
But Clinton's mixed record on immigration issues hasn't seemed to hurt her support among Latino voters. Clinton won the Latino vote by a ratio of 2:1 in the 2008 primaries against Obama, and is way out ahead of Sanders in this year's voter-intention polls among Latinos.

Here's what all the candidates had to say about immigration tonight: