PHILADELPHIA—Hillary Clinton framed tomorrow's election in generational terms at her penultimate rally of 2016, firing up supporters just steps from the birthplace of the nation and hours before polls opened.
"Throughout our history, generations of Americans just like us have come together to meet the tests of their time," she said, a massive American flag draped behind her. "Tomorrow we face the test of our time."
She was backed up by a roster of political (and actual) rockstars: President Obama, Michelle Obama, Bill Clinton, and Chelsea Clinton attended the first event since the Democratic Convention to reunite five of the campaign's biggest names, while Bruce Springsteen and Jon Bon Jovi serenaded the crowd as they waited for Hillary.
The campaign estimated that 40,000 people packed Independence Mall, with the Liberty Bell and Independence Hall—where the Constitution and the Declaration of Independence were signed—behind them. The crowd shouted and waved "USA" signs on a frigid, clear night under a bright half-moon.
In her speech, Clinton outlined what she said was a clear choice between herself and Donald Trump, who she described as divisive and small-hearted. She also reminded voters that Trump had suggested he might not accept the election results, foreshadowing what could be a drawn-out political battle beyond the next 24 hours.
G/O Media may get a commission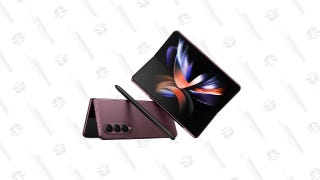 Save Up to $300
Galaxy Z Fold4
"Let's show tomorrow there will be no question about the outcome of this election," she said. "None of us want to wake up on Wednesday morning and wish we had done more."
The rally capped a breakneck last day of campaigning as both Clinton and Trump sprinted across the country. Clinton has focused the closing chapters of her campaign in Philadelphia, with three appearances here in as many days. After she finished her speech in Philly, she left for a midnight event in Raleigh (headlined by Lady Gaga).
At one point, Clinton admitted, "I regret deeply how angry the tone of the campaign became." "Not your fault!" someone in the crowd shouted, and she flashed a grin.
In what was likely his last campaign speech as president, Obama outlined some of the highlights from his term, from Obamacare to the economic recovery, and framed Clinton's candidacy as the opportunity to continue his legacy.
"Like the American people, she is strong and tough," he said. "The vicious, crazy attacks, the double standards applied to her, they're like nothing we've ever seen before."
He also broke out one of his new favorite lines about Trump, noting that his campaign recently took away his Twitter account. "If his closest advisors don't trust him to tweet, why should any of us trust him with the nuclear codes?" he asked to laughs.
The rally took place 100 years to the day after Jeannette Rankin of Montana became the first woman elected to Congress. While Clinton didn't dwell on the historic nature of her candidacy, the Obamas urged voters to make history.
"Speaking here tonight is perhaps the last and most important thing I can do for my country as First Lady," Michelle Obama said. "In just a few hours, we have the power to make her our next president."
She addressed Democrats who might be wavering on supporting Clinton. "Presidential elections are breathtakingly close," she said. "If we stay home or we play around with a protest vote, Hillary's opponent will win, end of story."
Attendees at the rally said they were optimistic about tomorrow's results and excited that Clinton chose Philadelphia as the site of one of her last campaign events. The line to get inside snaked around multiple blocks in one of the oldest neighborhoods in the country, as union members passed out "Hardhats for Hillary" signs.
Hilary ("one L") Spence drove from Maryland for the rally. "To be a woman of our age, this is huge," she said. "This is our generation finally breaking through." When Hillary lost the Democratic nomination in 2008, she said, "it was a stake in my heart," although she said she was also excited to see Obama.
"If Bill strolls on, that's fine," Spence added.
Down the line, Miriam Colon, who came to the rally with two granddaughters, literally jumped up and down with excitement. "I can't wait," she said, beaming. "This is history." Her son, Alex Negron, pushed his five-year-old in a stroller. "Just the thought of her being the first woman, that's what matters most," he said. "My daughter, she says, 'I can be president, too.'"
Others said they were most excited to see the Obama before they left the White House. "I just want to see a glimpse of him and the First Lady," said Valerie Covington, 54, wearing a heavy black coat. "Just a glimpse."
And then there were those who were just looking forward to November 9.
"All these commercials—every time I see one I turn off the TV," said Brigena Taten of Camden. "I want it to hurry up and be over, and for Hillary to be president."
Casey Tolan is a National News Reporter for Fusion based in New York City.