Canvassing is an inherently dorky activity. The clipboards, the fliers, the Hi, do you have a minute?…none of it sounds like something a college student would choose to do at 10 a.m. on a Saturday in the dreary, post-industrial city of Springfield, Mass., no matter how many "Feel the Bern" posters she has up in her dorm room.
And anyway, the candidate this morning is not Bernie Sanders. It's Hillary Clinton, and I would be willing to bet that neither she nor her young supporters give a shit whether or not I think they're dorky. Nina Henry, a freshman at Smith College, certainly doesn't.
Clinton "is the most qualified candidate who shares my beliefs," she says simply. "And it happens to be a really awesome bonus that she's a woman."
Henry, a tall redhead wearing chocolate-brown work boots, leggings, and a green sweater with a plaid collared shirt underneath, has already canvassed for Hillary four or five times this election—today feels like a break, she says, because the other times were in New Hampshire and necessitated a 6 a.m. wakeup call. She's polite, formal, earnest, and barely 19 years old. In her six months at Smith, she's been doggedly trying to drum up support for her candidate amid a sea of "very vocal" Bernie Sanders supporters on campus, as the director of Smith for Hillary.
G/O Media may get a commission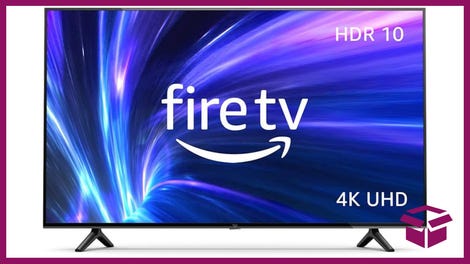 42% Off
Amazon Fire TV 50" 4K Smart TV
"People who are experienced in organizing and activism tend to be for Hillary," she says. "You know, the political nerds."
Amid the Bernie fervor sweeping America's college campuses, stoked by promises of a future where college is free and debt is a distant memory, there's a far smaller, less raucous minority: the students who are Ready for Hillary. Sanders and Clinton may be in a dead heat in Massachusetts ahead of Super Tuesday, but national numbers say Sanders has the young vote on lock. Exit polls showed that 83% of 18-to-29-year-olds voted for Sanders in the New Hampshire primary last month. On the cluster of politically active campuses in western Massachusetts—where I've come for the weekend to chat with the smattering of Hillary fans—Bernie posters and bumper stickers are a frequent sight. Just last week, Bernie held a rally at the University of Massachusetts-Amherst's 9,400-person basketball arena. The line to get in was multiple blocks long.
The Hillary supporters I met aren't exactly running on fumes of passion. They're, as Henry put it, "political nerds"—students who still have faith in the strategy of incremental change, who are less concerned with sweeping reform than with efficiency and experience and actually passing bills through Congress. College is supposed to be the time you think big, wax theoretical, entertain wild possibilities. But the Hillary voters on campus proudly call themselves realists (although Bernie supporters might call them cynics—or worse). They aren't buying those calls for "revolution." They have little patience for sexist memes or Bernie bros trolling their Facebook feeds. They're not cool, and they don't care that they're not cool.
"This isn't a popularity contest," says Liana Ascolese, a fourth-year political science major at UMass who's been involved in campaigns since high school. Ascolese is "not sure that we need a political revolution" and doesn't "think that establishment is always synonymous with bad." But mostly, she's voting for Hillary because she's always been "a little feminist" and thinks Clinton is by far the best candidate for women. She points to Clinton's record on health care and reproductive justice, and her "Women's rights are human rights" speech from 1995.
"Hillary ushered in this tide of feminism in politics," she says.
If you ask Ascolese, Hillary's still fighting a wave of misogyny, too. The Bernie vs. Hillary memes "disgust me," she says, diligently citing a recent Slate article. "You're taking these sexist tropes and just attributing them to what you think the candidates would say" about traditionally male things like Harry Potter and Star Wars. "Really what they're saying is 'Get out of male spaces.'"
She knows her peers delight in Bernie's unconventional vibe, but she points out that "crazy old men are funny" whereas "crazy old women are just crazy and bitchy and mean and people don't want anything to do with that."
Ashley Lund, a junior at Mount Holyoke College, also says double-standard sexism is at the heart of Hillary's perceived stiffness. "Bernie doesn't really care about his appearance," she says. "That's not an option for women."
As Lund leads me through her dorm clad in sweats and flip flops—cornsilk hair gently mussed, mascara still on from the night before—I notice that her room's door is decorated with a flurry of both Bernie- and Hillary-themed literature. Her roommate is a Bernie fan, so they've pinned up a photo of the two Democratic candidates sharing a hearty laugh. It's not like Lund is anti-Bernie; when she worked for the U.S. Senate as a page in high school, she saw Sanders speak and remembers "being very inspired. I understand how his message resonates with young people, because I was one of them."
But Hillary Clinton is a "strong, pragmatic leader who knows how to get things done." Plus, she says, she's "so overqualified."
When Lund transferred from Macalester to Mount Holyoke this year, she was expecting to find at least some fellow Hillary supporters. "I thought the Seven Sisters connection with [Clinton's alma mater] Wellesley would be a powerful binding force," she says. She was "shocked" to find that there wasn't even a Hillary Clinton group on campus.
Lund went about changing that, but so far, it's been hard to rally the troops. The "Mt. Holyoke for Hillary" Facebook page she created has only 39 likes. Lund spent half of her allotted printing money for the semester making more than 100 posters announcing the new group and taped them around campus, but by the next day, someone had taken down every single one. She couldn't help but notice that all the Bernie signs were still there.
"I read the rules to make sure I wasn't violating a campus policy," she says. "I wasn't."
The poster incident was a rare time she was confronted with opposition IRL. It's mostly online where the Hillary hostility shows its face. "Every single time I post something, they flock to my status," Lund says of the Bernie bros who dip in and out of her Facebook comments.
I check out her feed later that night, and there are indeed several men who show up again and again, mansplaining away under favorable links about Hillary. One simply writes "make america great again" under all her pro-Clinton posts. ("Stahhhhp" she eventually implores him.) Recently, on another friend's Facebook page, Lund got in a spat with a guy who called Hillary a "stupid lying bitch." To her dismay, a guy friend she "considered a feminist" liked the disparaging comment.
Tess Halpern, a freshman at UMass, is not one of Nina Henry's "political nerds"—she's never been canvassing, and there's nary a campaign button in her room—but she did write an op-ed earlier this month in the UMass student newspaper The Daily Collegian about her support for Hillary. Bernie Sanders is "unpolished, he's an underdog, he tells it like it is," she wrote, "and it's not impossible to imagine him sitting on your couch wearing track pants and complaining about the Yankees." Clinton, on the other hand, is "smart, strong, and good under pressure," even if she's also "harsh, she has no sense of humor, I've never seen her hair move and those videos of her trying to nae nae." Halpern is voting for Hillary, yes, but pro-Clinton polemic this was not.
And yet nothing prepared Halpern for what happened next. Once the op-ed was published, suddenly she incurred the wrath of Bernie fans on social media. Clinton "enabled her rape-accused husband to continue his habits," wrote one commenter under her piece. "But…vote Hillary because vag!na!"
Tess describes Hillary as the "safer bet," and she herself is "not a risk-taker" and a "very logical thinker" (even if she did feel a pang of loneliness when she saw her friends' "Feel the Bern" Snapchat stories during the UMass rally). But she still thinks of herself as a full-throated liberal.
"I felt super-conservative" after the reaction to her op-ed, she says. "And I'm obviously not. I go to UMass-Amherst!"
Perhaps this is why Hillary supporters, outnumbered by their less composed peers, often lurk in the shadows. Rooting for an establishment candidate at a left-leaning college ironically renders you a rebel, as any campus Republican will tell you. Ascolese, Lund, Henry, and Halpern all told me stories of other students who had confessed their discomfort with openly supporting Clinton, even though they were relieved to find others like them.
"When you discover another Hillary supporter, you're like, 'Omigod, me too,'" Ascolese says. "It's like this little secret club, but that's kinda fun."
Nina Henry in particular has made herself known as a proud, unapologetic Hillary supporter. One of her canvassing buddies that Saturday, Smith freshman Lena Robinson, spotted Henry on campus with a "Ready for Hillary" sign just this past Wednesday. "All my friends are Bernie supporters," she says. "They seem to be the types with all the posters and the fliers."
She's that type now, too, prominently displaying a Hillary poster in her window. "I got it from Nina," Robinson says, right before she knocks on the next person's door.