An underdog Colombian boxer has punched his way to a silver medal at the Rio Olympics by beating two top fighters who were standing in the way of buying his mother a decent home.
Yuberjen Martinez, 24, says his greatness in the ring was motivated by the need to buy a dignified home for his impoverished parents—something he thought would only be possible with the prize money from winning a gold medal in Rio.
Martinez qualified for the Olympics as a darkhorse in the light flyweight category. The lanky boxer, who grew up outside a banana plantation on Colombia's Caribbean coast, had won some regional competitions, but was only ranked 42nd in the world heading into the Olympics. He wasn't considered a medal contender.
Training was also a problem. Unlike some of his competitors who sparred with top opponents around the world in the months prior to the Olympic Games, Martinez didn't have the money to train outside of Colombia.
But what he lacked in experience and training he made up for in motivation. From the outset of the Olympics Martinez set his sights on the gold medal. He said the $55,000 purse that Colombia's Olympic Committee gives to gold medal winners would be used to buy a house for his parents and siblings, who currently live in a dirt floor home made of cinder blocks.
G/O Media may get a commission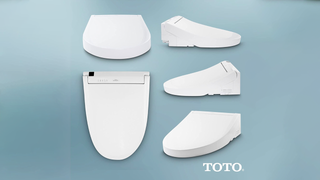 44% off
Toto Washlet Electronic Bidet Toilet Seat
Colombia also rewards silver medal athletes with $31,000, and bronze medal winners with $22,500. But Martinez was determined to bring home the gold.
"The money for the bronze is not enough for the house I want for my mother, so that is why I'm going for gold," he said last week, after he qualified for the semi-final.
On Sunday, a packed boxing arena with a smattering of Colombian fans dressed in yellow jerseys watched Martinez battle the favored Uzbek fighter Hasanboy Dusmatov, who ultimately won the gold medal on a unanimous decision from the judges.
But Martinez's dream didn't end with the final bell. Having captured the imagination of an entire country as Colombia's first boxer to make it to a gold medal fight, the Colombian government noticed Martinez's plight and the young boxer's motivation for winning.
Shortly before the fight started, Colombia's minister of housing tweeted that she would help the Martinez family find a suitable home, regardless of the outcome.
Martinez, however, was apparently unaware of the minister's tweet as he stepped into the ring for his final fight in Rio. A Colombian journalist told him about it after the fight ended, prompting the boxer to break down into tears of joy.
"I have no words," Martinez said upon receiving the good news.
Martinez's Cinderella story started in Colombia's Uraba region, where as a sixteen-year-old he alternated training with a job at a banana plantation to help support his parents and five siblings.
The fighter's parents said that they are preparing a party to celebrate their son's return with a traditional meal of fried fish and coconut rice.
"We hope the government keeps it promise," said Martinez's dad, who suffered a crippling back injury and can no longer work.
Manuel Rueda is a correspondent for Fusion, covering Mexico and South America. He travels from donkey festivals, to salsa clubs to steamy places with cartel activity.