Remember Hobby Lobby? The arts-and-crafts supply store that religiously objected to providing its employees with Plan B under the Affordable Care Act While attempting to open a Bible museum in Washington, DC, Hobby Lobby ran into some trouble. The Feds caught them smuggling.

Steve Green, Hobby Lobby's CEO and scion of the family business, has been under investigation since 2015 for smuggling ancient Assyrian cuneiforms into the U.S. The shipments, which were labeled as "ceramic tiles," began in 2010 and contained artifacts intended to fill the so-called Bible museum Green's family funded. According to The Daily Beast, they had amassed a collection of more than 40,000 objects from the Middle East.
At least one shipment of 200-300 tablets was seized by Customs in 2011. On Wednesday, the craft giant was formally reprimanded by the Justice Department and forced to pay up. On top of a $3 million fine, Hobby Lobby will forfeit "approximately 144 cylinder seals" according to the civil complaint.
The Justice Department's memo described Hobby Lobby's acquisition of some 5,500 artifacts as "fraught with red flags." By the DOJ's account, Hobby Lobby seemed like it was trying to buy something a bit more nefarious than historical objects:
"Hobby Lobby received conflicting information where the Artifacts had been stored prior to the inspection in the UAE. Further, when the Artifacts were presented for inspection to Hobby Lobby's president and consultant in July 2010, they were displayed informally. In addition, Hobby Lobby representatives had not met or communicated with the dealer who purportedly owned the Artifacts, nor did they pay him for the Artifacts. Rather, following instructions from another dealer, Hobby Lobby wired payment for the Artifacts to seven personal bank accounts held in the names of other individuals."
G/O Media may get a commission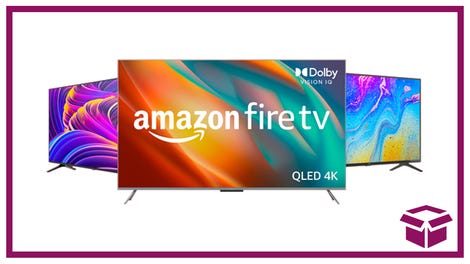 Ooh. stunning.
New Amazon Fire TVs
Green, ostensibly unfazed, acknowledged Hobby Lobby's "regrettable mistake" in a statement. "We should have exercised more oversight and carefully questioned how the acquisitions were handled," Green said. "Hobby Lobby has cooperated with the government throughout its investigation, and with the announcement of today's settlement agreement, is pleased the matter has been resolved."

It's unclear is the artifacts' forfeiture will impact Hobby Lobby's $500 million Museum of the Bible — slated to open in the fall. Though the company's "passion for the Bible" will continue in case anyone had doubts.