Is the United States waging a secret crusade to make the Dominican Republic gay? One group thinks so.
A gaggle of religious leaders and self-professed intellectuals is calling on the Dominican government to declare U.S. Ambassador James Brewster "persona non grata" for allegedly "promoting homosexuality" in the country.
In a letter published last week in Dominican media, the group of some two dozen people sharply criticized Brewster and his husband, claiming their participation in a gay pride march and use of gay pride symbols effectively amounted to "a homosexuality crusade."
"Our understanding is that Mr. Ambassador Brewster and his team are not accredited in our country to carry out a sacrosanct crusade of homosexuality among Dominicans," they wrote.
The letter marked the latest attack by Catholic and evangelical Christian groups against Brewster, whose appointment nearly three years ago was described by some religious leaders in the country as an "insult."
G/O Media may get a commission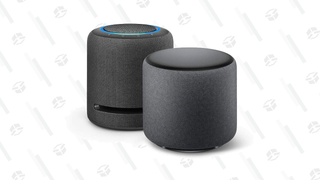 25% off - Prime Exclusive
Echo Studio + Echo Sub Bundle
A business executive and prominent fundraiser for President Obama's re-election campaign, Brewster is one of six current U.S. ambassadors who is openly gay. In 2013, he responded to the initial criticism from Dominican church leaders by releasing a video on the U.S. embassy's website introducing himself and his husband, Bob Satawake.
"My parents taught me that all people deserve respect, dignity, love and opportunity," Brewster says in the video. "They also instilled in me a strong belief in God, and the values of love and tolerance. Bob and I bring those beliefs and values with us as we come to the Dominican Republic."
The video didn't sway Dominican religious groups, which have continued to lambast him and his partner. In its most recent letter, the group accused the White House of trying "to create the right conditions to morally deprive" young Dominicans. The letter also criticized a picture published in a Dominican newspaper of "semi-naked [men] hugging each other" in the pool at the ambassador's official residence.
The U.S. Embassy in Santo Domingo did not immediately respond to a request for comment.
Dominican LGBT groups have come to the defense of Brewster, and fired back at the letter.
"The absurd homo/lesbian/bisexual/transphobic violence that takes place in practically the entire country and its institutions, include those who call themselves progressive, is on display in this intellectuals' letter," a group of gay advocacy groups said in a statement. "It's clear that while many families, schools and churches do not encourage these expressions of violence, they allow them to happen."
The letter attacking Brewster was published only weeks after a Dominican cardinal publicly disparaged him as "the wife to a man." Angry over over Brewster's comments about corruption in the Dominican Republic, Cardinal Nicolas de Jesus Lopez Rodriguez told reporters, "That man needs to go back to his embassy, let him focus on housework."
Lopez has repeatedly referred to Brewster as a "faggot."
The cardinal's comments prompted Illinois Senator Dick Durbin to fire off a letter to Pope Francis last month.
"Despite these hateful words and personal attacks, Ambassador Brewster has worked to quiet the conflict between Church leaders and himself," Durbin wrote.  "His patience and professionalism in light of these mean-spirited attacks by the Cardinal demonstrate his personal commitment to his responsibility of representing the United States of America."
Durbin added, "The Church's teachings on gay marriage are well known but the Church also teaches us to show tolerance for those with different sexual orientations. The intolerant public statements of Cardinal Rodriguez are inconsistent with that clearly stated value."