A Phoenix-area congressional race hasn't earned much attention nationally. But the contest for Arizona's 7th Congressional District has become one of the most hotly contested and acrimonious campaigns of this midterm election season.
On Tuesday, voters will choose a replacement for Ed Pastor (D), the first Latino elected to Congress in Arizona. Pastor is retiring after two decades in Washington. His open seat is a prize for Democrats. It's in a deep blue district and the winner of the Democratic primary is presumed to win the general election.
Former Maricopa County Supervisor Mary Rose Wilcox and ex-state Rep. Ruben Gallego are the frontrunners in the four-candidate primary field. They've both tapped into the Latino community for support in a district where more than six in 10 residents are Hispanic.
But a campaign that started with a positive tone has devolved into mudslinging, which could be a turnoff for many constituents.
Fusion profiled Gallego, 34, this spring. The son of immigrants who served in the Iraq War, Gallego billed himself as a new type of leader who would reshape the politics in a place that has had the same representative in Congress since the the 1990s.
Gallego looked to young immigrant activists to run an energetic get-out-the-vote operation designed to spur first-time voters to support him. The mission wasn't just to win a congressional seat this year, it was to awaken the Latino vote in Arizona. That's an uphill battle in a district, and state, where Latinos vote in low numbers. But success could have national implications.
G/O Media may get a commission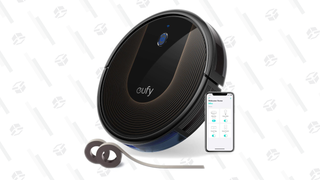 48% Off
Eufy BoostIQ RoboVac
"I've always believed in turning out my district and the Latino community and now people are starting to get that mindset and in other parts of Arizona," Gallego said in April. "If you could do that in other parts of the country, you could be turning over districts from Republican to Democrat overnight."
Wilcox, 64, has stressed her deep ties to the district. She served on the Board of Supervisors for over 20 years and says she has the track record to best represent the district.
"I know my community," she told CQ Roll Call this week. "My community has shared with me many of their concerns, and so the message is one that is resonating. And that's how we win."
Both candidates have similar stances on key issues like education, healthcare, and immigration reform. Both denounce Maricopa County Sheriff Joe Arpaio, public enemy number one for Arizona Latinos. So the campaign has become a race about who has the character to represent the district. And the attacks have become increasingly personal during the summer months.
Former Maricopa County Supervisor Mary Rose Wilcox at a state court building, April 10, 2012. (Ross D. Franklin/AP Photo)
Wilcox has gone on the attack early and often against Gallego.
In a bizarre episode this June, Wilcox's campaign sued Gallego for misrepresenting his name on the ballot (in 2008 before he was in elected office, Gallego switched his surname to his mother's from his father's, who left the family when he was a young child).
The lawsuit seemed like a ploy to play up Wilcox's experience over Gallego's youth. "My name is Mary Rose Wilcox, and this community knows who I am," she said in a statement. But it backfired, due to the reason behind Gallego's name change and the fact that Wilcox's maiden name of Garrido had appeared in official literature. The lawsuit was quickly withdrawn.
Wilcox struck again in July with a says that he supports universal background checks and expanding gun buyback programs. Wilcox, a survivor of a shooting, has made gun laws a centerpiece of her attacks against Gallego.
Gallego's campaign has struck a more positive tenor overall, but it hasn't been afraid to go after Wilcox too. Gallego has attacked Wilcox for owing between $50,000 and $100,000 to the IRS in taxes from 2012. Wilcox's campaign told the Phoenix New Times she is paying the taxes back "on schedule" and accused Gallego's campaign of skirting payroll taxes by designated workers as independent contractors.
The negative tone of the campaign could take a toll on election day. The district had the fifth lowest turnout in the country in 2012 and Latino voters have an even lower propensity to cast ballots in midterm years. The back-and-forth attacks are "probably just going to exacerbate that," said Arizona State university political science professor Rodolfo Espino.
"I would not be surprised to see record-low turnout for that district," he said. "With the way this campaign has transpired, Latinos might say 'Ed Pastor. Ruben Gallego. Mary Rose Wilcox. What's the difference?"
It's hard to declare a definitive front runner heading into Election Day. There's been little public polling on the race; one survey in late July showed Gallego leading Wilcox 41 percent to 31 percent, but the poll was commissioned by a group backing Gallego. Gallego ($54,202) has more cash on hand than Wilcox ($41,069), according to Federal Election Commission reports.
Even if Gallego prevails on Tuesday, a surge in Latino voter participation in Arizona's 7th might have to wait.
Jordan Fabian is Fusion's politics editor, writing about campaigns, Congress, immigration, and more. When he's not working, you can find him at the ice rink or at home with his wife, Melissa.