Coco Chanel once declared: "A woman who is about to cut her hair is about to change her life." True, especially when you consider Kim Kardashian, Lady Gaga, and Nicki Minaj. These three women are each experiencing a style (r)evolution, and have pared down — leaving the candy-colored wigs, meat dresses, and frosty lips behind.
But what's to explain the shocking new fashion turns? And what style surprises may be next? We investigate.

KIM KARDASHIAN
Kim's journey from a Calabasas, Ca. professional closet organizer to Vogue cover girl and Balmain spokeswoman has a been a winding, twisting road that is fraught with wide belts, bandage dresses, and public outfit shamings from her style Svengali husband Kanye West.
Before: Racy, colorful, flashy
Not necessarily awful, Kim's style B.K. ("Before Kanye") was attuned to her personal brand, which at the time was rooted firmly in evading talk of her infamous sex tape, filming reality television, posing for lad mags, and hawking QuickTrim and table service at Tao nightclubs. Chintzy, body-hugging, and racy, Kim's clothing wardrobe choices were about exaggerating her buxom physique. High fashion she was not.
G/O Media may get a commission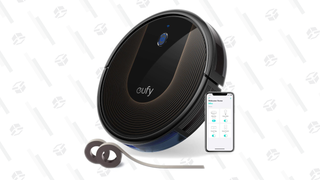 48% Off
Eufy BoostIQ RoboVac
When she began dating rakish rapper, Kanye West in 2012, he quite literally upended her entire wardrobe and set about morphing the bonafide sexpot into his own monochromatic complement; it all went down in a cringe-inducing Keeping Up with the Kardashians episode.
Wide-eyed and eager, Kim can be seen giving herself up to West's influence entirely, all under the pretense that he would fill her wardrobe with completely new pieces. As the footage shows, he and his personal stylist, Renelou Padora, smugly sniffed at and canned Kim's extensive wardrobe, with the fashion neophyte desperately attempting to save a patent-leather shearling-lined purse that West mistook for a pet carrier.
"Shouldn't I just keep this for my daughter one day?" Kim whimpered, unknowingly referencing her future stylish offspring North West, who by my estimation, would reject the gaudy bag too.
"Sometimes silence is the best response, " West shoots back. "You gotta let [Renelou] do her thang, she's a professional." Kim acquiesces and is soon slipping into the sleek shift dresses and ladylike frocks that would later comprise the "New Kim" look.
Preening in front of a mirror in demure Lanvin, standing on her tippy toes as she basks at her new image, Kanye assures her, "It's like, 'I'm getting on best dress lists now. I'm stepping into that territory.'"
After: Sleek, monochromatic, tonal
Kanye new what he was talking about. His makeunder of Kim allowed for the couple to soon mitigate the literal fatwa the fashion community had once waged on the reality star. Adopting a new publicity approach to position her in the fashion and luxury sphere, and taking on West's signature tonal palette as her own, Kim began to rely on strong outerwear, denim accents, and simple cuts in luxurious fabrics to tone down her look.
Soon she won over Valentino Garavani, Givenchy's Riccardo Tischi, Vogue's Anna Wintour and Andre Leon Talley, who once quipped, "I don't think any celebrity can take away from fashion. Not even Kim Kardashian could take away from fashion…" Two years later, Talley and Kim were taking lunch in Paris together; just Tuesday, the august fashion editor was revealed to be a character in Kim's wildly successful mobile video game.
But perhaps more famously, Kimye's tenacious campaign towards fashion stardom paid off with an April 2014 Vogue cover, deeming them #worldsmosttalkedaboutcouple. It was a coup and the anointing the pair had been after from the fickle fashion industry since their initial "collaboration" to change Kim's look.
Interestingly enough, it wasn't that Kim was any less sexy or body-conscious in her fashion choices — she just had a much more streamlined execution of that idea. As Kim told Lucky Magazine, "Well, I am definitely way sexier ever since having my daughter! [Laughs] The struggle to get back into shape after giving birth is such a real one. It's so difficult to do, and afterwards, all you want to do is show off your body and feel sexy. I mean, my style's definitely more simple…" We saw it during Paris Fashion Week: Kim will willingly "free the nipple" by going braless, but she'll do so in, say, all white Balenciaga; she's not above latex leggings, but styled with a cropped pink fur coat.
She's also toned-down her beauty, cutting off her long, uniformed locks into a messy bob, while being so bold to take her tresses from their dark roots to a platinum dye job… and back to brown again. All of this done under the watchful eye of Yeezy.
Where Kim will take her style evolution next? Maybe look at Victoria Beckham's path for reference. It's hard to imagine the supremely chic designer and wife of David Beckham as anything but ~posh~ but the luxury designer has come a long way since her W.A.G. days of the late 90s. Don't be surprised if Kim's future includes a high-end collection selling out in a few years.

LADY GAGA
Before: Avant garde, shocking, a tad thirsty
When it comes to the sleek overhaul of Mother Monster's madcap, attention-grabbing, meat-emblazoned ensembles that have largely marked Lady Gaga's pop career, the term "normalization" keeps getting tossed around. Like, a lot. While the performer is by no means embracing "normcore" over couture, the dramatic switch from popping out of eggs on the red carpet or donning a facial mask completely made out of hair, to now wiggling about in tailored tweed Balenciaga suits has made the intimidating star a bit more accessible.

After: Ladylike, retro-inspired
This isn't to suggest she's lost her edge — the over-the-top singer still reportedly necessitates three wardrobe changes for just a day of running errands — but Gaga's new ladylike approach to style is perhaps even more provocative in its downright demure nature. Still bolstered by her dynamic persona and an extensive color way of wigs, tailored designs by Chanel, Dior, and Balenciaga have helped Gaga shapeshift into the jazz chanteuse she's become this year. Like any number of her past characters, Gaga's homage to Nancy Sinatra and yesteryear Las Vegas lounge acts gains her full committal.
As her stylist, Brandon Maxwell, explained to Fashionista,

"[Gaga's] pretty in charge of everything she does. I've worked with a lot of other people and she definitely is one of those people who, from writing the music down to deciding what she wears during the day, everything is her vision. She had a jazz album out this year and obviously that informed a lot of the aesthetic, and you get older and you evolve and things change and your style changes, just like any person does as you get older. With the album coming out and her singing jazz, it just made more sense to do looks that were in line with the icons of the past, the great jazz legends, and do that in her own way. She's very, very naturally beautiful and very regal, so it felt really natural for me to dress her like that."
Gaga has always had an aptitude for high fashion, of course, but as she explained to Hollywood Reporter, "…we are not just creating fashion as a look but an entire experience. It's our life. It's the reason I do it every day."
Whether this "experience" will last past the stretch of her "Cheek to Cheek" tour with duet partner Tony Bennett has yet to be determined. But her new look has removed the spotlight from Gaga's grandiose get-ups and placed it squarely on the voice that shattered this years Grammys and Academy Awards. As it should be.

NICKI MINAJ
Before: Neon
What perhaps makes Nicki Minaj's move from "Harajuku Barbie" raptress to Alexander Wang's muse so interesting to observe is her insistence that this is who she's been the entire time. After recently phasing out her cotton-candy wigs and neon cottonball-embellished costumes that made the world first take notice of the boisterous rap star, Minaj confessed, "I kind of feel now that I look more like my regular old self, like what I look like when I'm at home. I think there's just a little bit more confidence and so I'm like, 'It is now what it is. I am who I am. I look like what I look like.' I don't really have to change much of it anymore."

After: Natural
Instead of resting upon garish and ill-fitting costumes, Minaj began slinking about in dark, finely-tailored Tom Ford frocks that accentuated her eye-popping (ahem) assets and chic resolve as she released and promoted her third album, "Pink Friday" last year. As she confessed to GQ, the surprising switch-up had always been apart of her plan: "I always thought that by the time I put out a third album, I would want to come back to natural hair and natural makeup. I thought, I will shock the world again and just be more toned down. I thought that would be more shocking than to keep on doing exactly what they had already seen."
And shock us she did. According to Glamour, she found herself a new mane man, Oscar James, through referral by Tyra Banks and began working to cull a look that wasn't "overprocessed and fried." She also started using makeup with more natural tones: "I've never thought I'd love nude lipstick, but I really do. I just feel sexier. Less is definitely more." Did you ever think you would hear Minaj utter those words?!
But perhaps more shocking than Minaj's new "back to basics" look? The knowledge that the hard-core rapper now enjoys pressed juices every day over her traditional Trinidadian fare. Talk about a makeunder.
Marjon Carlos is a style and culture writer for Fusion who boasts a strong turtleneck game and opinions on the subjects of fashion, gender, race, pop culture, and men's footwear.