Another Democrat says that President Obama should allow Americans to keep their health coverage if they have plans being canceled under his signature healthcare law.
Rep. Henry Cuellar (Texas) echoed former President Bill Clinton, who put pressure on his fellow Democratic president this week to fix the law so that people can keep their insurance.
"If someone goes out there and tells the American public you can keep your insurance even though there's this new law coming in, then I think that commitment should be honored," Cuellar said in an interview with Fusion's Jorge Ramos on Wednesday.
The headaches over Obamacare are piling up for the White House.
The president faces growing pressure over plans that are canceled because they do not meet the Affordable Care Act's minimum quality requirements. That could affect tens of millions of Americans, according to some projections.
G/O Media may get a commission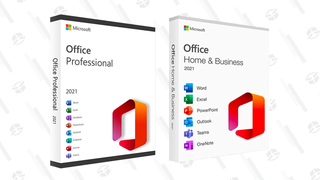 89% off
Microsoft Office Professional 2021 Lifetime License
Obama promised Americans that "if you like your healthcare plan, you can keep your healthcare plan" as he sold his insurance overhaul to the public.
A bill being drafted by House Republicans would allow insurance companies to keep all existing plans for one year. Cuellar did not specifically comment on that bill. But Democratic leaders oppose it, arguing that it would undermine crucial reforms implemented under Obamacare.
http://blogs.rollcall.com/218/democrats-and-the-upton-bill/
http://blogs.rollcall.com/218/democratic-leaders-will-oppose-upton-obamacare-bill/
Senate Democrats are weighing a similar bill, which would require insurance companies to keep existing plans.
The White House has said that many Americans with canceled coverage could find better plans on the insurance exchanges, but admitted officials would examine a fix for those who can't.
That's not the only bad news for Obama. Only 106,185 people selected an insurance plan during October, far below expectations, according to data released by the federal government today. Just 26,794 signed up using the troubled HealthCare.gov website.
Cuellar predicted that enrollment numbers would improve once the website's glitches and other problems are solved.
"We're seeing a lot of publicity on this website," he said. "I hope they get it fixed as soon as possible. But if you look at programs like this … they start off slow because of difficulties. I think things are going to work out better at the end."
Jordan Fabian is Fusion's politics editor, writing about campaigns, Congress, immigration, and more. When he's not working, you can find him at the ice rink or at home with his wife, Melissa.