As we get closer and closer to November, it's becoming clearer that the House Republican majority is in deep trouble. And according to new fundraising numbers, it could be worst-case scenario territory for Republican incumbents.

Politico reports that Democrats in fifty-six House districts outraised the Republican incumbents that they're facing in November over the last quarter; sixteen of those Republicans finished the quarter with less cash on hand than their Democratic challengers. By comparison, just one Democratic House incumbent, Pennsylvania Rep. Matt Cartwright, was outraised by his Republican challenger, John Chrin, during the second quarter.
In addition, Politico reports, over two dozen Democrats in open battleground seats outraised their Republican opponents over the second quarter, and 19 of them have more cash on hand than the Republican they're facing. In total, that's over eighty Democratic candidates currently outpacing Republicans, which is even more impressive when you consider that a lot of the Democratic challengers just had competitive primaries to get through. (Democrats need a net gain of at least 24 seats to win the House.)
It's also reportedly outpacing what Republicans did in the second quarter of 2010:
Historically, Republicans in 2018 are faring worse than Democrats in 2010, the last wave election, when the GOP picked up more than 60 House seats. In the second quarter of 2010, 44 incumbent Democrats were outraised by Republican challengers, many of whom captured their seats in the fall, according to a POLITICO review of FEC records. Eight incumbent Democrats also trailed Republicans in cash on hand at this point in the 2010 election.

[...]

But a handful of GOP members, lagging financially in ruby-red districts, may also need outside groups to come in to defend them — like Texas Rep. John Carter. His Democratic opponent, combat veteran MJ Hegar, released an online ad that went viral last quarter and helped her raise more than $1.1 million.

"This is shaping up to be the Democratic equivalent of the 2010 Republican year, and a lot of these members have never seen this or run in a cycle like it before," [Republican pollster Glen] Bolger said. "But the list of outraised candidates is getting longer, not shorter."
G/O Media may get a commission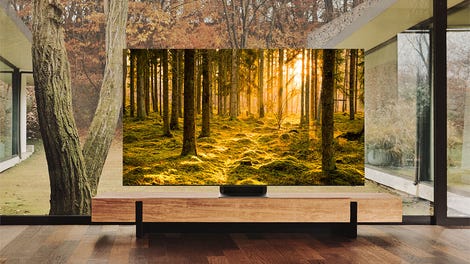 Up to 40% off
Samsung Smart TVs
Reminder: The GOP won 63 House seats in 2010.
Accordingly, all of the Republican consultant types that Politico talked to are in meltdown mode. "If you allow yourself to be outraised, then you are inviting trouble," Republican consultant Chris LaCivita told Politico. "In a midterm election with your party in power, trouble generally equates to defeat." No kidding!

Of course, the Republicans also have a shitton of money in their Super PAC coffers (given to them by such grassroots donors as The GEO Group), so don't count them out just yet.
And the Congressional Leadership Fund, a super PAC aligned with House Republican leadership, raised a whopping $51 million last quarter and has more than $70 million sitting in the bank. The group already raised a best-ever $66 million in 2017 and is set to pour record sums of super PAC money into this year's House races.

"We set the public goal of $100 million, and we will far exceed that," said Corry Bliss, executive director of the CLF. But he also warned that the group would not save everyone this fall, saying: "Those who are not willing to help themselves should not complain when outside support does not come their way," he said.
Normal democracy we have here.