The long-brewing tension between Bob the Drag Queen and Derrick Barry finally came to a boil on Monday night's episode of RuPaul's Drag Race. The rival queens landed in the bottom two and subsequently lip-synced for their lives to Sylvester's "You Make Me Feel (Mighty Real)," a spectacularly campy lip sync battle the likes of which John Krasinski's terminally heterosexual Spike show could never hope to replicate.
Anyone who's watched the eighth season of Drag Race with me knows that I'm far from a Derrick Barry fan. (With every low-key racist mention of Bob's "ratchet drag," my eyes roll harder than a Tumblr-wave teen at Coachella.) So I wasn't super bummed when RuPaul asked her to "sashay away." But I do have some sympathy for our nation's foremost Britney Spears impersonator. Imagine having a negative memory permanently attached to a song as amazing as "You Make Me Feel (Mighty Real)." Is disco just, like, canceled for you? How do you go on?
This is something I've been thinking a lot about lately. What kind of relationship do the eliminated queens of Logo's flagship reality series have with the lip sync songs that sent them home? Are they still able to enjoy the tracks, or do the opening chords alone send a shiver up their corset-hugged spines? If the act of listening to Gloria Gaynor becomes a minefield of potential triggers, does a drag queen simply avoid gay bars and Pride events—hell, even the occasionally with-it Walgreens speaker system—for all eternity? Sure, there might be life after love, but is there love after lip sync for your life?
To find out, I reached out to some of Drag Race's most esteemed alumnae. Here's what they had to say.
1. Gia Gunn on Lisa Lisa & Cult Jam's "Head to Toe"
G/O Media may get a commission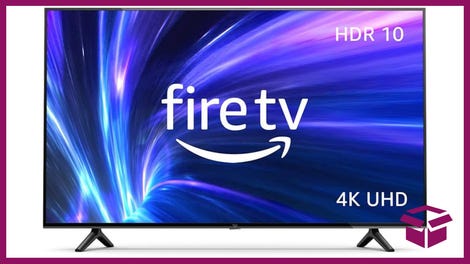 42% Off
Amazon Fire TV 50" 4K Smart TV
"I hadn't heard the song before coming to Drag Race. I'm actually a '90s baby. But when I listen to it now, it's like a love/hate relationship. It always brings me back to that unforgettable moment of being eliminated. Drag Race was something I worked really hard for, and once I got there I do believe I gave it my all. But you know, it also reminds me of my relationship with Laganja Estranja, who I was lip-syncing against. It's a happy moment."
2. Trixie Mattel on Blondie's "Dreaming" and Robin S's "Show Me Love"
"I remember feeling certain that I was gonna win that lip sync to Blondie's 'Dreaming' because I love Blondie—they're my all-time favorite band—and you may as well be put down like a dog if you lose a lip sync to Pearl. But having lost the lip sync, hearing 'Dreaming' makes me think of the whole ride of leaving Drag Race and then coming back. The fans were not happy when I was first eliminated, and so the song makes me think of the support I got when I lost.
"'Show Me Love' is really hard—it's not super fun to hear. When it comes on in bars, everyone always cheers, and I'm just like, 'FUCK EVERYONE!!!!' I did perform to a mix of 'Show Me Love' and 'Dreaming' after Drag Race, which helped make the song not as scary or upsetting anymore. That's sort of like how I got my drag name. 'Trixie' was a word my stepfather called me growing up, so I made it my bitch and took back the night. But still, I never need to hear 'Show Me Love' again. If I got married, it would be on my 'do not play' playlist."
3. Jaidynn Diore Fierce on Tiffany's "I Think We're Alone Now"
"I would prefer not to listen to it again. It wouldn't kill me, but it would bring back those bad memories of Ru saying 'I'm sorry, Jaidynn Diore Fierce, but it's time for you to sashay away.' At that moment after the lip sync, I was like, 'Y'all can go ahead and send me home. I'm tired!' [Laughs]. It really sucked."
4. Tempest DuJour on RuPaul's "Geronimo"
"My 'lip sync for your life' song was RuPaul's 'Geronimo.' Exactly. None of us had ever heard of it, either. Fortunately for me, it's not a song that gets played in public or added to random doctor and dentist office playlists, so I don't ever hear it unintentionally. But when I do, I get a nauseous, sick feeling in the pit of my stomach. Obviously my conscious and subconscious relate the song to the devastation of being the first to go my season. Recently, though, I performed the song at a local show, just to try and reclaim control over it—sort of a big 'FUCK YOU!!!' to the song. The crowd loved it."
5. Mrs. Kasha Davis on Teena Marie's "Lovergirl"
"I grew up in the '80s, and I love that song. I remember lip-syncing 'Lovergirl' into my sister's hairbrush in the basement and singing along to it while driving around with my friends. And I still love listening to it—it's on my playlist every morning! RuPaul's Drag Race has been life-changing. I left a career of 18 years to do Kasha Davis full-time. So, I walked away from that elimination, like, loving that moment. It's something I'll remember for the rest of my life."
6. Kandy Ho on Ariana Grande's "Break Free"
"I feel like I hear this song every 10 minutes! They play it everywhere. At malls, parties, clubs, radio, when I call customer service and they put me on hold. But every time I hear it, I remember the amazing time I had on the show and the beautiful bond I made with the girls. Sometimes I listen to it while I'm cleaning my apartment, even though I don't get much cleaning done because I'm dancing all over the place."
7. Tammie Brown on Michelle Williams' "We Break the Dawn" and Ethel Merman's "There's No Business Like Show Business"
"I've never once heard 'We Break the Dawn' since the show. Did it even chart? But I definitely have a positive association with 'There's No Business Like Show Business.' (I beat the socks off of Latrice if you really watched the lip sync.) I catch myself singing the song to myself. 'The headaches, the heartaches, the backaches, the flops…' That's how show business is sometimes."
8. Kelly Mantle on Madonna's "Express Yourself"
"That particular song was an anthem for me, growing up, to own myself and be powerful, so it was ironic that it would be the song that sent me home. I personally would never dream to perform Madonna because I feel she's someone you need to impersonate. Maybe had I worn a kimono… But I can still listen to the song. It takes me back to my childhood. I don't even think about the lip sync when that song comes on."
These interviews have been edited and condensed for clarity.
Bad at filling out bios seeks same.