When Alaa Basatneh started communicating with Syrian protesters from her home in the Chicago suburbs, it didn't seem like a big deal. The Syrian-born teenager was simply interested in staying connected with current events in her native country.
But as the Syrian Revolution evolved, so too did Alaa's participation. Using her mouse and keyboard, Alaa became a central player and key organizer in the early stages of the rebellion against President Bashar Al-Assad's regime half a world away.
Alaa, the subject of a new documentary film #ChicagoGirl, shared her insights with Fusion on how to manage a revolution in the digital age.
In the case of Syria, the moment came when 15 kids were detained for writing anti-government graffiti on the walls of a school in the small town of Daraa. That sparked protests, followed by a stupid government reaction. Before too long, the protests spread organically across the entire country. That's the cue to get involved.

G/O Media may get a commission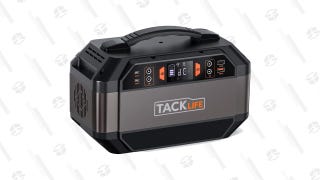 Tacklife Portable Solar Generator
Because the Syrian regime closely monitors social media, Alaa helped protesters by acting as a proxy to upload videos.
"The best way to do it," she explains, "is for the activists to go protest, upload the video to YouTube without anything in the headline, send it as private to me, and I download the video.  They delete the video, and I blur the faces, write the description in English, upload it myself and start to send it out."

Alaa's work shows that encouraging diverse groups to protest together helps amplify the call to action. "You need to show that it is not a tiny minority of people against something. That way others feel invited in, too."

Once activists galvanized to demonstrate in public, Alaa helped them organize a safe exit strategy.
"When activists would say 'we've decided to protest in this square,' I would go in on a Skype meeting and help figure out escape routes, and make sure that people from neighborhood A go this way, and people from neighborhood B go this way, so they're not all running to one place and get blocked. They need to know exactly where to run from, and where to run to."

Alaa found sympathetic figures in the Syrian regime willing to share information that has helped save the lives of protesters on the ground.
"There were people from the regime who started telling us, 'the military is going to go into this village or that village.' They would tell it to me because they knew I had faster internet and because I knew more people from here than a lot of them knew on the ground over there."
"I would post that information onto this Skype group we created to warn people and their families to get out of the neighborhood."
But she warns you need to be leery of government sources. "It's a double edged sword, so you have to be really careful."

Alaa's constant online presence helped her establish a strong bond with Syrian rebels on the ground. "By helping get the news out, by showing the activists that I was there 24/7… that shows people that this is someone I can trust."
But as Alaa's role in the protests increased, so did the risks of her involvement.
"I decided to stick with the activists that I knew since the beginning of the revolution and not work with anyone new, because nowadays you never know who you are working with. It could be Syrian regime, it could be ISIS, it could be…someone from the LA gangs that decided to go fight for the sake of fighting in Syria. It got really chaotic. But when you really get to know people you get to know who they are, what their motivations are, and that is really important."
The film #ChicagoGirl airs on Fusion's television network as part of our Rise Up summit on youth activism.
Original calligraphy by Fusion's Elisa Rodriguez-Vila; Photo compositing by Alejandra Aristizabal
Andy is a graphics editor and cartoonist at Fusion.
Daniel Rivero is a producer/reporter for Fusion who focuses on police and justice issues. He also skateboards, does a bunch of arts related things on his off time, and likes Cuban coffee.