On the surface, The Fall may seem like a typical crime drama. There's a serial killer on the loose who murders only young, beautiful women. First he stalks them, then he slaughters them. And there's the detective on his trail, desperately trying to get inside the madman's head.
Of course, if you watch the BBC drama, you already know it's so much more than that.
From the likability of serial killer Paul Spector, played by Fifty Shades' Jamie Dornan, to the at-once powerful and vulnerable detective Stella Gibson, played by Gillian Anderson, the show is the opposite of a cliché.
Which is why it can be argued that The Fall is empowering women more than victimizing them—despite the female body count—mainly thanks to Anderson's complex character and the way creator Allan Cubitt chooses to utilize her.
G/O Media may get a commission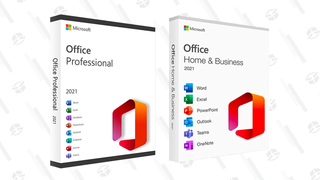 89% off
Microsoft Office Professional 2021 Lifetime License
Cubitt talked to Fusion over email about how his show came to be one of the most feminist programs on television.

On writing a strong female lead
"I knew I wanted the investigating officer to be female, and I knew from the start that the drama would seek to empower her as a character," said Cubitt, who is also the writer, director, and executive producer of The Fall, which takes place in Belfast, Ireland. "I knew that the piece would embrace and articulate feminist interpretations of male violence."
Indeed, The Fall makes viewers face male violence against women head-on and through the frustrated eyes of Detective Gibson—making us, too, feel frustrated with the world's patriarchal systems.
Cubitt has maintained extraordinary creative control over the show, which has allowed him to oversee the subtle details that often get lost through extensive rewrites and too many cooks in the kitchen. "I'd like to think that the nuances are not being missed by me because I am so aware of the substance of the scripts I am shooting," he said.
It's this nuance that helps make Gibson a believable vessel for how women—especially strong ones—are viewed and treated in the world.

On confronting double standards
You don't need to have seen the show to understand the double standards women face in their careers—something Gibson faces in nearly every episode. From an unbuttoned blouse during a press conference to her generally unapologetic demeanor, she is constantly judged by her male counterparts. While fellow male police officers would congratulate their male coworkers' sexual dalliances, Gibson is slut-shamed and her work ethic is questioned.
"She is a senior police officer and is in a position of some power but she still faces the fact that she is perceived to be an exception and that there are people prepared to judge her in superficial patriarchal ways," said Cubitt. Adding "One of the things Gibson seeks to defend is a woman's right to exist outside the protection of a man."
In one memorable episode, when a fellow officer blows off his own head inside the station, Gibson remains calm while the male officers crack, underscoring her power.

On learning from his daughter
So how did Cubitt manage to weave such strong feminist ideals into his writing, having never experienced them himself?
"The focus of my life for the last twenty years has been very orientated towards the female—specifically my daughter," he said. Watching her become a teenager provided first-hand experience into the very different world women grow up in.
"The uncomfortable nagging thought at the back of your mind is the threat of male sexual violence," Cubitt said, something he thought about every time he sent his daughter, Connie, out on dates or with friends. "It's an illusion, trying to disguise your concerns but always fundamentally fearful for their safety, a sad reflection of society."
This reality is reflected in Spector's character: an egomaniacal serial killer obsessed with bringing down successful women. "Men's fragile egos can easily be reduced by the ridicule or criticism of women," Cubitt said. "But women have reason to fear the capacity men have for violence."
In another memorable scene, Gibson tells a colleague: "Men are afraid that women will laugh at them. Women are afraid that men will kill them"

On celebrating strong women
When The Fall first premiered in the U.K. and Ireland in May 2013, some early critics slammed the show as seeking to glamorize sexual violence against women. But Cubitt said these critics missed the point. "This was a knee-jerk reaction on their part," he said.
His admiration for strong women started in childhood. "I adored my father, but I owe whatever emotional equilibrium and whatever abilities I have to my mother and her love and devotion to me," he said.
Along with Anderson, Cubitt has had the opportunity to write for female powerhouses including Helen Mirren, Dame Wendy Hiller, Helen McCrory. "I've always seized any opportunity I've had to create complex female characters and place them at the heart of my writing."

On 'Fifty Shades'
As for Dornan's other big part involving complex relationships with women, Cubitt says he hasn't seen Fifty Shades, but he raved about his leading actor. When asked to compare Paul Spector and Christian Grey, he added, "As far as I'm aware, the two roles are only alike in very superficial ways."
Luckily for us, The Fall has been renewed for a third season, which will be available on Netflix (where you can also watch the first two seasons). Cubitt says the new season will "continue to explore the dynamic between Spector and Gibson" and offer some closure. Yes, please.
Taryn Hillin is Fusion's love and sex writer, with a large focus on the science of relationships. She also loves dogs, Bourbon barrel-aged beers and popcorn — not necessarily in that order.