The death of a parent can bring more than just heartbreak. It can also burden a child with unexpected and immediate costs if that parent happened to cosign on a private student loan.
A report released this week by the Consumer Financial Protection Bureau brought to light a policy that can send student borrowers spiraling into default even if they have been in good standing.
When co-signers pass away or fall into bankruptcy, private lenders can demand — legally — to be paid in full for the loan immediately. That's true even if the borrower has a record of making payments on time.
The agency said it has received a growing number of complaints about such automatic defaults, and urged lenders to be transparent about their practices and to give borrowers a chance to find a new cosigner.
Rohit Chopra, the bureau's student loan ombudsman, told The New York Times that some of the loan companies appear to be combing public death and bankruptcy records, cross-referencing them with loan records, and producing repayment demands and default notices almost automatically. He encouraged the companies to give students time to find alternative ways of paying the loans.
G/O Media may get a commission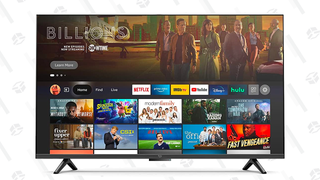 22% off
Amazon Fire TV - 50" Omni Series 4K - Early Access Deal
While federal student loans don't require a cosigner, the vast majority of private loans are cosigned. That's because cosigners tend to come with better and more substantial credit histories, which can significantly reduce loan interest rates.
The defaults flagged by the report can have long-term negative consequences when it comes to a borrower's credit history, which can make it difficult to buy a house or a car, even years later.
One option that Chopra outlined in a blog post on the bureau's site is to consider a cosigner release. That option lets borrowers who demonstrate that they have been making regular payments and have good credit history remove their cosigner from the loan. That way, if something happens to the cosigner, it no longer impacts the borrower's loan.
But right now, loan servicers are not forthcoming about such options. What can you do to find out? The bureau has drafted sample letters that borrowers can send to servicers. To see them, go here.
Emily DeRuy is a Washington, D.C.-based associate editor, covering education, reproductive rights, and inequality. A San Francisco native, she enjoys Giants baseball and misses Philz terribly.