"There's someone we admire," Kwon Yong-man declares from behind his drum kit. Kwon—who, along with Jang Sung-gun, makes up the grindcore outfit Bamseom Pirates—is performing at a protest against the U.S.—Korea Free Trade Agreement.
"A famous announcer and a composer and the CEO of a small company all share the name with this person we admire," Kwon continues. The person he is talking about is named Kim Jong-Il.
The two then launch into a song, screaming, "All Hail Kim Jong-Il" before describing the lives of other ordinary people who were not the dictator of North Korea but by chance happened to share a name with him. After all, it's not an uncommon name.
This scene, which takes place in a new documentary by director Jung Yoon-suk called Bamseom Pirates Seoul Inferno, is a perfect example of the way Bamseom Pirates balances political criticism with humor, all while avoiding arrest for violating South Korea's speech laws. The band is outside the country's mainstream music scene, but it has a fervent following among South Korea's increasingly active youth activist movements. Bamseom Pirates Seoul Inferno, which recently screened at the New York Asian Film Festival (and, unfortunately, isn't scheduled to play anywhere else in America at the moment), shows how the band inadvertently found itself at the center of some of the most charged debates about the country's political culture, tolerance for dissent, and status in the world.
The band and the film question what it really means to be patriotic in a deeply nationalistic country where even progressivism can be hindered by an almost fear-driven need to announce an anti-communist stance.
G/O Media may get a commission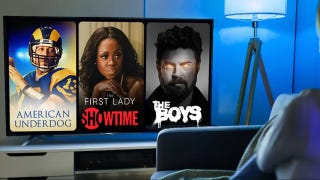 UNDER $1
99¢ Prime Video Channels
---
The first thing that sticks out about Bamseom Pirates Seoul Inferno is the noise. The band's MO is aggressive yelling and screeching over a barrage of bass riffs and stream of blast beats—that is to say, classic grindcore. Their sound can be very divisive, which is exactly what caught Jung Yoon-suk's attention.

"I thought the lyrics were so poetic and brilliant, but then at the same time I was seeing a lot of audience members leaving because they thought it was really noisy," Jung told me earlier this week, through a translator. "I felt like the contradictions that's going on in Korean society today is often translated into noise," he said. The whole movie is dedicated to exploring and even trying to resolve those contradictions.
"Korean society continually asks you the question of, 'Whose side are you on?' and forces you to really come out and reveal what stance you have whether it's politics or whatever," Jung said. "And I really feel like that also shows quite a violent side of society."
The first half of the film establishes the band's activist credentials. They play gigs protesting redevelopment projects ahead of the 2018 Olympics, the privatization of Seoul National University, and the construction of a naval base on Jeju Island.

But it's the second half that grounds the film in the reality of South Korean politics and the consequences of the band's dissent. Park Jung-geun, the band's producer and friend, is arrested by the government for violating the Cold War-era National Security Law—a vaguely written statute which criminalizes pro-North Korea commentary—over some silly tweets he posted (example: "Dear Leader, please buy me some chocolate"), along with a retweet of an official North Korean account.
His arrest sparks a national debate about whether or not the law—which many consider a draconian violation of freedom of expression—should be repealed. Stunningly, Park is found guilty and sentenced to 10 months in prison and two years probation.
"I no longer make any statements about North Korea," Park (who has been released) told me. "Not because I'm scared but mostly because I'm just really tired and fed up with the issue now. I believe that Korean society has so many other more issues that we have to deal with other than North Korean issues."
Jung agreed. "When you take a look into the South Korean society, there are a lot of other issues beneath the surface," he told me. "There's a lot of class struggle and economic struggles and generational conflicts as well."
The refusal of Korean society to address these very real issues in favor of "communist vs. anticommunist" rhetoric has left Korean youth pissed off. (In the film, Jang describes the three big issues facing Korean youth: no money, no culture, no time.) They are tired of the zealous performative nationalism and capitalist-driven misery imposed on them. In fact, they threw a president out of office over it.
---
Banseom Pirates Seoul Inferno can be hard to follow at times if you don't speak the language or know all the context. For example, in one of the more intense scenes, Kwon is subjected to an aggressive grilling by two interviewers. It seems like he might be getting challenged from the right. In fact, he is being challenged from the left—something that could have probably been cleared up with some text.

"The context was that actually a very politically progressive media outlet came to interview Kwon, and they actually wanted to present him as this progressive icon, of the 20s, 30s-age people in Korean society," Jung explained. But because Kwon wasn't giving them the typical and acceptable "progressive" responses, the journalists became more hostile, which made Kwon very uncomfortable.
That context considerably changes the tone of the film, emphasizing just how militaristic political discourse in Korea can be, even if you're ostensibly "on the same side."
Right after that scene, we hear the song "Shit and Piss," a song in the spirit of South Park's "Douche and Turd" episode that essentially describes Korean politics. (Sample lyrics: "Shit and piss, if you can't pick, you'll be regarded as shit and eaten" and "Give me water, Please give me water.")
"Older generations feel like if you don't choose something, you're weak, but in my opinion if that's all you're given, if shit and piss are your only options, you also have the right to not choose anything," Jung said.
Despite this charged content—and a two hour running length—Banseom Pirates Seoul Inferno is still a fun watch. And it offers some much-needed perspective on freedom of speech, the dangers of political extremism, and the power of noise.