Using social media to connect with an exasperated electorate, a 25-year-old independent candidate in the state of Jalisco managed to buck Mexico's political establishment and win a landslide victory on what has got to be one of the cheapest campaigns in modern history.
Pedro Kumamoto received approximately $1,200 from Mexico's electoral authority (INE) to launch an innovative grassroots campaign that has shaken the establishment to its core after he turned that seed money into a seat in Jalisco's State Congress in last weekend's midterm elections.
Kumamoto, a virtual unknown until his upset win on Sunday, has become an overnight political sensation in Mexico for running a shoestring campaign and romping seasoned political opponents with much deeper pockets.
"I think our victory is a symbol that people are tired of the way politics are being conducted," Kumamoto told Fusion in a phone interview.
G/O Media may get a commission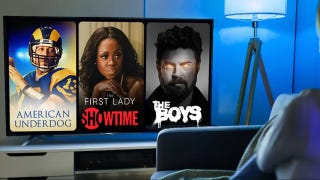 UNDER $1
99¢ Prime Video Channels
With his victory, Kumamoto, whose compact résumé lists his previous work experience as a "cultural manager" who headed the Alumni society at the Jesuit University of Guadalajara (ITESO) for two years,  joins the ranks of other independents who bucked the odds to beat incumbents, including Jaime "El Bronco" Rodriguez.
So how did the young candidate do so much with so little?
"We started out with a little more than $1,000 (18,500 pesos), and then asked people to donate up to $450 (7,000 pesos) each," said Kumamoto. "We collected around $16,300 (250,000 pesos) from 130 donors who gave us all sorts of stuff, ranging from boxes of apples to bookmarks and sunscreen with our campaign logos. We received mostly products and not money."
And with those products he produced a victory.
Kumamoto says he spent about one-fifth of what traditional parties spend on similar campaigns. All of his workers were voluntary, he said. "People decided to invest their talent in the candidacy."
His constituency is comprised of youths, journalists, community organizers, and academics who helped established a savvy online and social media presence with slogans such as "walls do fall."
The young candidate made wide use of WhatsApp, YouTube, Twitter and Facebook to divulge his message to potential voters. Kumamoto claims he spent only around $1,300 (20,000 pesos) to promote Facebook posts — and that was one of the most expensive parts of his campaign.
Kumamoto also struck a chord with society by outlining clear and concise campaign commitments: banning all salaries and "favors;" incorporating a spending supervising team; no publicizing himself on giant billboards; no attack ads; and accepting all invitations to debate.
"Less than half of the population voted during the midterms and that speaks to the rejection of traditional political parties and institutional politics," said Kumamoto. "But we also saw the opposition grow across Mexico, mainly against the ruling party PRI."
Kumamoto says he's aware that running a government is a different monster than running a campaign.
"I'm not going alone into this. I'll be accompanied by 58,000 people who will help me pass my initiatives," he said, referring to his voters. "Congress will be divided and other politicians will need my vote to pass things."
But can Kumamoto's success be replicated by others?
"$1,200 is enough as long as there's hard work, creativity and a profound will to modify politics and be more inclusive," he says. As a congressman Kumamoto will also have to do more with less if he chooses to fulfill his campaign promise of renouncing to 70 per cent of his salary and all the benefits that go with the job, such as medical insurance, bodyguards, and work budgets for his cellphone and transportation.