Just as cable news pundits began preparing their obituaries for the Bernie Sanders campaign, the democratic socialist from Vermont pulled off a stunning victory in Michigan.
In his biggest upset of the campaign, Sanders squeaked past Hillary Clinton by less than 2 percentage points, a margin of about 20,000 votes out of more than 1.1 million cast. This after polls put Sanders behind Clinton in Michigan by 20 points or more.
Clinton pulled off a decisive, if expected, victory in Mississippi, winning more than 80 percent of the vote there and extending her overall delegate lead in the nominating race.
But what happened in Michigan? A couple things: First, Sanders seems to have made an impression on late-deciding voters. Exit polls showed Sanders trailing Clinton by 3 points among people who made up their minds before this week, while winning late deciders by 7 points.
His surprise victory also probably has to do with the fact that younger voters, who tend to favor Sanders over Clinton, turned out in greater than expected numbers.
G/O Media may get a commission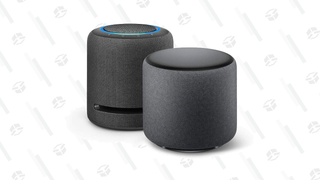 25% off - Prime Exclusive
Echo Studio + Echo Sub Bundle
But the best news for the Sanders campaign was his performance with black voters. He won about a third of black voters in Michigan. In several Southern states, he hasn't even gotten to 15 percent.
Why did he do so much better with black voters in Michigan? There are several theories: His message on issues like racial justice and the prison state could be starting to break through. Or polling, which failed to predict so much of Tuesday's results, might have simply underestimated his support among black voters.
Yet there is another possible explanation, and it's one that Sanders himself predicted in February when he told ABC's George Stephanopoulos, "I think you're going to see us doing … much better within the African-American community outside of the Deep South."
It is possible that black voters in the Rust Belt, especially those in manufacturing states like Michigan, are more open to Sanders' message about trade and Wall Street. That is both a good and bad sign for Sanders. On one hand, it means that his "ceiling" with African-American voters can be broken. On the other, it means that he may continue to struggle Southern states. That theory will be put to the test next Tuesday, in the big contests in Ohio and Florida.
On to the Republicans, whose contests, while less surprising, were also big wins for the outsider candidate. Donald Trump handily won the Mississippi and Michigan primaries as well as the Hawaii caucus, while Sen. Ted Cruz walked away with a single victory in Idaho.
The string of victories is consistent with Trump's recent wave of success, though there were some surprises. Trump, who generally fares better in primaries than caucuses, proved for the first time since Nevada that he can win in a caucus state.
Thursday night was also a bad omen for establishment candidates John Kasich and Marco Rubio, who had both hoped to come in second in Michigan, but who instead placed third and fourth, respectively.
That kind of performance is certain to spook the anti-Trump wing of the GOP establishment, which is counting on native sons—Rubio in Florida and Kasich in Ohio—to deny victories to Trump in the winner-take-all contests in those states next week.